The competitors of the first Vietnam's supermoto race last Sunday brought spectators the most impressive performance and deep hopes for the promising future of this sport in Vietnam.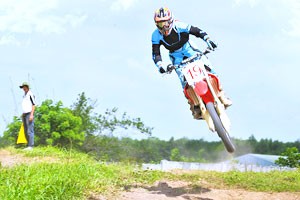 Champion Pierre Yves Catry demonstrates an electrifying performance (Photo: xehoivietnam.com)
The first Vietnam's supermoto race held Sunday attracted the participation of 36 domestic and foreign bikers.
The foreign competitors are mostly from France, some from America, Australia, New Zealand, and Austria. This is a prestigious competition that provides the skillful bikers a chance to test their courage.
The racetrack is not very tough, said the organizers, but 30 circles of the race are nerve-racking enough to fascinate and persuade the spectators. 
Despite their inferior, Vietnamese bikers still managed to show their best performance during the race with many great skills and prove that they weren't worse than the foreign bikers.
The tournament ended up with the three highest prizes in the expert category predictably going to three foreign bikers. They are mostly workers in the southeast cities and province of Vietnam, namely Ho Chi Minh City, Vung Tau and Dong Nai.
The second and third prize successively went to Australia's Aaron Daldy and France's Biasse Clement Thomas. The champion of this year's tournament is Pierre Yves Catry  from France.
Veteran biker Pierre Yves Catry had a convincing victory in this race thanks to his impressive and professional performance.
This sport helps provoke the bikers' courage and confidence when dealing with difficulties, according to Catry. It is quite suitable for many Vietnamese bikers who have a burning desire for this dangerous and challenging game.  
In the semi-expert category, the three winners are from Vietnam. Vo Duy Thien is the champion. The first and second runners-up are Pham Thanh Danh and Nguyen Bao Viet in succession.
Supermoto is a sport of racing motorcycles on a circuit which alternates between three types of track, namely flat track, motocross and road racing. The bikers use the motorcycles particularly designed for this race.
Although supermoto was introduced to Vietnam only more than 10 years ago, it is now very popular between the bikers who are interested in high cubic centimeter (cc) motorcycles in Vietnam.
However costly and painstaking the game is, an enthusiastic biker still tries his best to ferret out a powerful motorbike, an elegant sportswear or even accessories.
The 2011 National Supermoto Championships was held by Vietnam Cycling Federation and Dong Nai Province Department of Culture, Sports and Tourism at Mango Garden
Resort in Dong Nai Province, about 40km from Ho Chi Minh City.
There are four standard rounds with 945m each and the bikers can use imported motorcycles ranging from 50cc to 450cc in this year's competition, Dong Nai Newspaper reported.
The first festival of supermoto in Vietnam successfully wrapped up but it rose up expectations of "bike-a-holics" in Vietnam on the rapid development of this interesting sport.
Thanks to this success, the Vietnam Cycling Federation is planning to regularly hold similar races to find out more professional athletes for international tournaments.