The 2010 BTV-Number One Cup kicked off March 9 in the north-central province of Quang Tri with participation of 12 Vietnamese professional cycling teams and three teams from the Netherlands, Mongolia and the Philippines.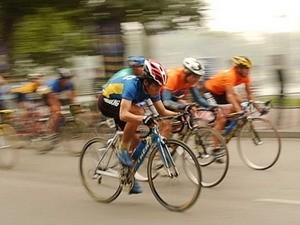 Cyclists race during the first stage of the BTV international cycling tour on March 9 in the north -central province of Quang Tri. (Filed photo)
The race begins in Quang Tri, then heads through Hue, Da Nang, Quang Ngai, Binh Dinh, and Nha Trang, finishing at the Binh Duong Radio and Television (BTV) station.
The 10-stage tour will cover a distance of more than 1,100km.
Top Vietnamese cyclist Truong Quoc Thang has re-joined this year's competition, after a hiatus of several years.
Thang said he hopes to gain more experience through such competitions in order to coach young cyclists in Ho Chi Minh City.
This year, cyclist Spijkerboer Wim from Holland has been given permission by the Vietnam Bicycle and Motorbike Association to compete on a Vietnamese team during the event. He will race as part of the ADC-Vinh Long Television team.
Other Vietnamese teams include Domesco Dong Thap, Sai Gon Plant Protection Joint Stock Company, Ho Chi Minh City and An Giang Plant Protection Company.
The tournament, jointly organized by BTV and the Binh Duong Municipal Department of Culture, Sports and Tourism, runs until March 18 and offers total cash prizes worth more than VND220 million (US$12,000).