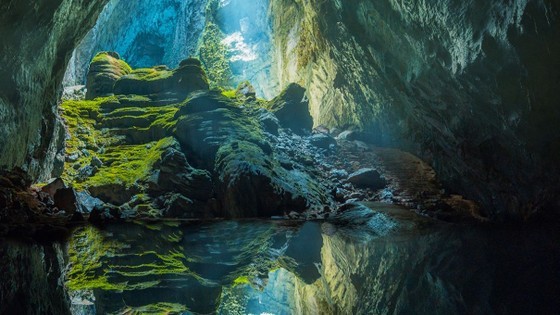 Son Doong cave
"Popular for being one of the largest caves in the world, Son Doong Cave in Vietnam is one of a kind. Translating to "River Mountain Cave," it is believed that the cave has been formed by river Rao Thuong erosion into the base of a limestone mountain, Truong Son. Hence, a large tunnel was formed underneath the tunnel.
Being 200m high and 175m wide as well as 9.4km in length, this cave is estimated to fit a 40-story New York skyscraper.
The most fascinating elements are a thick forest mushrooming in the cave for years as well as towering stalagmites, phytokarst, cave pearls, as well as cave roof collapses. Also, It requires two days of intense jungle trekking and river crossings to reach the entrance of Son Doong Cave.", the site wrote.
Son Doong cave is located in the heart of the Phong Nha Ke Bang National Park in Quang Binh province. It is estimated to be between 400 and 450 million years old and was discovered in 2009. The cave has a total length of 9 km, and opened to tourists in 2013; four years after members of the British Cave Research Association finished their exploration.
In 2019, a new underground tunnel, which is far below the sea level in the world's largest cave, Son Doong was found. The exploration has clearly proved that Son Doong Cave is bigger than its current title of the world's largest cave, making it more mysterious.
The Oxalis Adventure Tour Operator has been permitted to operate a one-day tour and a two-day- one-night tour in the cave from November to next August since 2015. The five-day and four-night tour costs US$3,000 a person. Each tour has a maximum of 10 visitors, totaling a maximum of 500 tourists for the entire year.
According to regulations of the People's Committee of Quang Binh province and British experts, Son Doong will not receive adventurers in the last months of the year for its environment protection and biodiversity conservation as well as giving porters and guides a chance to have a break.
Phong Nha-Ke Bang National Park in the central province of Quang Binh is one of the most spectacular wilderness sites in South East Asia and one of the two largest limestone regions in the world. It was recognized as a World Heritage site for the second time for its ecological system and biodiversity at the 39th session of the World Heritage Committee in Bonn, Germany in 2015. The first time was in 2003 for its geological and geomorphologic values. It is home to more than 300 caves and ranks among the most popular tourist destinations in Vietnam, including the world's largest cave, Son Doong; the world's 3rd largest cave, En cave; and the longest dry cave in Asia, Thien Duong (Paradise) Cave.
Scientists estimate that Phong Nha-Ke Bang and adjacent areas are home to over 1,000 caves. There are more than 600 caves that still remain unrevealed. Artificial intelligence (AI) will be applied to discover caves and digitize the entire cave system for scientific study and tourism development, said the director of Phong Nha-Ke Bang National Park.