More than 76,000 ceramic antique items salvaged from a shipwreck in the southernmost province of Ca Mau will be auctioned by the Sotheby's in Amsterdam, the Netherlands on December 30 to 31.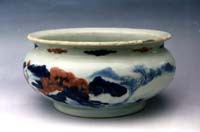 An antique salvaged from the shipwreck
The ship carrying more than 130,000 antiques was discovered in 1998, over 160 km from the Ca Mau Cape in the south. Some of the antiques of about 60,000 have been donated to the Viet Nam Historical Museum in Ha Noi, Ho Chi Minh City and Fine Art Museum of Ca Mau.
Most objects are believed to be Chinese ceramic items and dated from 1723 to 1735 in the Yongzheng dynasty.
According to director of Ca Mau Historical Museum Le Cong Uan, the auction of 76,000 salvaging antiques from the shipwreck may be auctioned for US$1 million, which will be used in research and excavation of underwater archaeological sites by the government.
However, the Sotheby's auction house forecasts that the amount of money will reach a great number of US$2.5 million.
The State invested VND13 billion to get the vessel out of water.