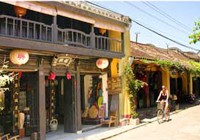 Hoi An -Photo: TH
Unsightly business will no longer be able to operate in Hoi An's Old Town under a group of measures announced by the city.
Untidy business will not be allowed to operate in this section, the city has determined. Agriculture, forestry, fishery and processing industry, waste treatment, and motor repair will also be banned. Other businesses that will be forbidden to operate in the city center include karaoke, discothèque, and massage.
However, authorities encourage artistic activity, sculpture, preservation, museums, souvenir shops and traditional medicine.
Places of business will not use white light, halogen, nor will clothes be piled in front of fabric shops.
Private shops may only displayed souvenirs made of wood, pottery, or bamboo.
These measures went into taken effect on July 7, 2008.