This year the 2011 Youth Creativity Competition was organized by the City Community, Department of Science and Technology, Department of Education and Training, Vietnam Union of Science, Technology Associations and HTV on July 9 at the Ho Chi Minh City Youth Cultural House.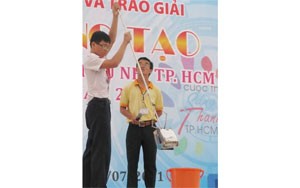 Nguyen Vuong Thanh Duy (L) presents his "Clean hand" device to audiences and judges
More than half the projects submitted in the competition last Saturday were created by students. Many of these young teenage students focused on creating products of utility for society as well as related to their study program.
Duy Hieu, Kim Thinh, Hoang Lam, Khanh Huy and Vinh Tan from Tran Dai Nghia High School, made good use of cheap materials like PVC water pipes and lens with help of stellarium software, compass and protractor to make a refractor telescope.

They applied what they had learnt in their lessons about optics, not only revising what they learnt but also demonstrating to students in rural areas that astronomy can have cheap and practical ways of learning.
Hoan Thien and Trung Hieu from Dang Tran Con Secondary School derived their idea for their project from the ordinary bicycle. The two 14-year-old students used the parts of an old bicycle- headlights, wires, spokes, bell etc. to make a unique bicycle resembling a motorbike but with more security features, keeping in mind the frequent traffic accidents.
Many other projects submitted in the competition were those that would be beneficial to the community at large.

Truong Hai, Xuan Ngo, Trong Nghia and Xuan Phat from Nguyen Thi Minh Khai High School designed an innovative nail and iron sucker that would vacuum suck nails, iron fragments and plastic bits from roads where vandals laid them to waylay travelers. They used two axles made from water pipes of different sizes that would perform the job.

Other products like vessels made from bottle and electric equipments by Anh Tai and Minh Quan or the rocket launching robot by Truong Giang are some products of utility for national defense.
This years Competition gave away three first prizes. Two of which were won by two U18 students, Nguyen Vuong Thanh Duy from Nguyen Du Secondary School of Go Vap District and the other by Pham An Binh from High School for Gifted Students of Vietnam National University in Ho Chi Minh City.
Duy's "Clean hand" project was an efficient and functional product for use to sluice cleaning workers. Binh's software project aimed at supporting 11th grade students with national defense education subjects.

According to Doan Kim Thanh, Director of the Center of Science and Technology, although many products failed to impress judges, they still deserved praise for innovative creativity.