Vietnam's wind power capacity is significantly potential, but its growth rate is deferred by many difficulties.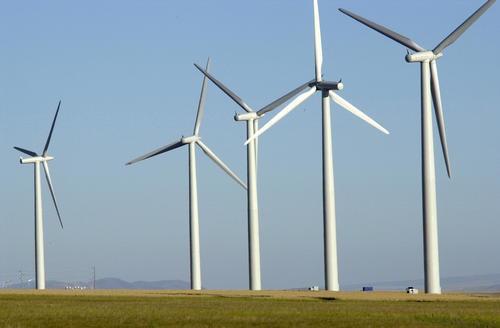 Wind turbines
Many wind power projects in the central province of Binh Thuan have been deferred or canceled since the sites of the proposed wind turbines are also rich in titanium.
Grant of wind power project permit are set to be halted until the evaluation of the mineral deposit conducted by the Ministry of Natural Resources and Environment (MNRE) finishes, says the local authorities.
Binh Thuan province is expected to be Vietnam's biggest wind power supplier, with 12 wind power projects having received investment permits. Their output will total around 1,500 megawatts.
Wind power investors at the neighboring province of Ninh Thuan are also struggling with permit issue.
"Wind power construction projects are usually set to be located at the coastal areas, where many households are living at. And it will cost a lot of time and money for relocation," says director Nguyen Thanh Hoan of the province's department of industry and trade.
Figures from the Ministry of Industry and Trade show 21 wind power projects with the output of 30 megawatts have been being conducted in Vietnam.
"The government approved to subsidize large wind power projects by some foreign investors, which were submitted in the last couple years. But they have not been carried out," says director Tran Khang Thuy of Economic Science Research Center.
Nearly 9 percent of Vietnam's area is appropriate for conducting wind power projects with an expected capacity of over 513,000 megawatts, according to the World Bank.
A decision approved by the Prime Minister on June 29 requires the country's power monopoly Electricity of Vietnam (EVN) to buy all the power output of wind power projects at VND1,614 (US7.8 cents) per kilowatthour.
EVN will receive a subsidy of VND207 (around US1 cent) for every kWh of wind power it buys via Vietnam Environment Protection Fund.
 
Under the decision, the wind power bought by EVN would remain VND388 (US1.5 cents) per kilowatthour more expensive than the current market price for electricity, according to a report carried Saturday by the Lao Dong newspaper.
 
Wind power projects in Vietnam so far have been hindered by the wide gap between wind power costs (US12.5 cents/kWh) and the market power price which is around 5.9 cents/kWh, according to estimates by the Ministry of Industry and Trade.
EVN has so far bought wind power at US6cents/kWh from Vietnam's first and only wind power plant in the south central province of Binh Thuan, invested by Vietnam Renewable Energy JSC, says a Saigon Times news website report.
As of February this year, the plant, which joined the national power network last year, had put 12 wind turbines into operation, generating around 19 megawatts.