The software "System of mathematic expressions editing, defining and calculating" of Vuong Ba Quy, 23, overseas Vietnamese student of Computer Engineering - Nanyang Technological University – Singapore (NTU) was awarded the first prize of the Viet Nam Intelligence software competition 2006.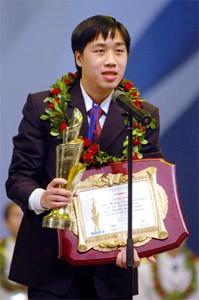 Vuong Ba Quy
The software provides tools to help people edit, define and calculate mathematic expressions quickly.
The second prizes went to the work "Charging and data saving equipment for mobile phones" of the group "Fellows" and "System of  automatical bus ticket dispense, and managing means of using technology for image processing and recognizing" by a group of Military Technical Institute.
The third prize belonged to "Vietnews" of Ha Duyen Hoa and "Electric maps on mobile equipment" of Nguyen Van Minh.
The first prize winner received VND70 million and an Elead laptop, the second prizes of VND40 million and an Elead laptop each, and the third prizes of VND25 million and an Elead desktop each.
The 7th Viet Nam Intelligence software competition themed "Integrating Technology - Connecting Friends" this year is organized by the Lao Dong (Labor) Newspaper, Viet Nam Television Station and the Corporation for Financing and Promoting Technology (FPT).

Related article:
Software Contest Down to Final 12