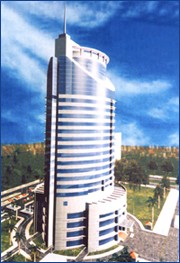 An artist's impression of a VNPT building office
The Vietnam Post and Telecommunications Group (VNPT) has signed a contract with the Ministry of Finance to supply services for a project to accelerate IT application in the national financial system. VNPT and its member companies will provide Mega WAN services with over 3,000 IP VPN channels over the new generation of platform in 600 districts in all 64 provinces and cities.

VNPT also pledged to manage, supervise and supply the most favorable conditions for the ministry's network.

VNPT is helping build an e-government in Viet Nam with an aim to computerize the country's financial system and advance IT application in the management of the network.