Dr. Tran Le Bao Ha from the Applied Stem Cell Research Center in the Natural Science University in Ho Chi Minh City recalls how she cried with happiness when she achieved a break-through in her research work in developing stem cells from mice teeth.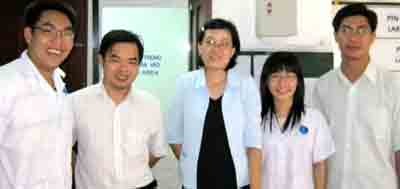 Dr. Tran Le Bao Ha (center) with her colleagues (Photo: SGGP)
The research project conducted on mice teeth has paved the way for growing stem cells in humans from tooth pulp, bringing much relief and opportunities for decaying teeth. The 10 year long project was carried out by her and her colleagues with the help of the medical institute.
Ha said that this was not a new subject as researchers in the United States and Australia found in 2000 that deciduous teeth have robust stem cells in their dental pulp. Stem cells have the ability to propagate into a wide variety of cell types. They can be grown onto various organs, like nerves, bones or haematopoeitic cells.
Vietnamese scientists began to carry out the project in 2002 on mice because the physiological and genetic characteristics of mice somehow match those with humans in many ways.
However, it is not easy to take mice tooth pulp as it is so minute that scientists cannot separate it. It took a lot of time and effort to complete this research. Moreover, it required careful planning and dexterity or else researchers could have destroyed the tooth pulp cells.
After achieving success in their research on mice, the group of researchers thought of conducting tests on humans. Vietnam has not yet established any bank for teeth, so the scientists sought help from dental clinics. Dr. Ha said her colleagues in the group waited 6 hours at times in dental clinics to get a tooth and sometimes even returned empty handed.
Vietnam has a high rate of dental diseases in the world. Currently, tooth-related diseases are on an upswing. According to the National Ophthalmology Institute, up to 99.4 percent of Vietnam's population suffers from dental diseases, especially in remote and mountainous areas. Over 80 percent of pre-school children suffer from tooth decay while the rate of those in age brackets 18-34 and secondary and high school students are 75 percent and 70 percent respectively.
The above figures prove the increasing demand of dental treatment. It is now possible that Vietnamese people will be able to avail of the new technology to repair teeth at a cheap price. Dentists usually extract the tooth pulp to treat a decaying tooth, even then the tooth remains tarnished. With the new technology, decayed teeth can retain their bright color.
Research on stem cells has been conducted in Vietnam for some years and it promises great benefits for humans besides strengthening healthcare in the country.