Vietnam's first software village launched its initial phase at the Hanoi-based Hoa Lac High-Tech Zone on November 13.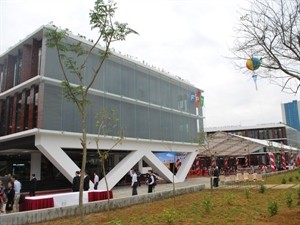 F-Ville is located at the Hanoi-based Hoa Lac High-Tech Zone. Photo: VNA
When operational, the project is expected to provide a creative space for 10,000 computer programmers and rake in 200 million USD in 2016.
Covering an area of 6.4 hectares, the village, called F-Ville, is being developed by the FPT Software Joint Stock Company. It is the largest of the seven software projects licensed at the Hoa Lac High-Tech Zone.
Minister of Science and Technology Nguyen Quan said he highly values the FPT group's initiative to launch the project and hopes that the village will be a breakthrough for the group's business, contributing to the country's scientific-technological development.
Sitting on a site of 16,000 square metres, the first phase of the project costs 48.6 million USD. It is expected to generate nearly 1,900 jobs.
According to FPT Chairman Truong Gia Binh, with 1,700 programmers, F-Ville is expected to help raise global high-tech groups' confidence in Vietnam.
 
The village is one of the priorities of Vietnam's scientific-technological development strategy for the 2011-2020 period.-VNA