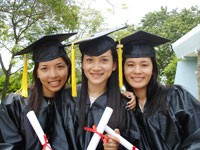 SaigonTech's IT graduates.
More than 80 percent of the sixty-one students from Sai Gon Technical Collage—a branch of the Houston Community College, U.S.—who graduated with IT degrees on July 2 have already been recruited.
As SaigonTech's IT training program students are instructed entirely in English with a syllabus provided by Houston Community College, they are considered students of the U.S college.
The cost of the training is 25 percent of the fee in U.S.
SaigonTech enrolls 500 students in IT and business administration departments each year. The deadline for next year's application is the end of August, 2006.