Vietnam's Ministry of Science and Technology (MOST) and the UK Foreign and Commonwealth Office have reached a memorandum of understanding (MoU) on cooperation in using atomic energy for peaceful purposes.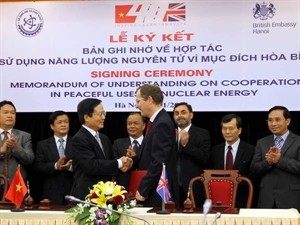 Deputy Minister of Science and Technology Le Dinh Tien and British Ambassador to Vietnam Antony Stokes at the signing ceremony (Photo: VNA)
The MoU was inked by MOST Deputy Minister Le Dinh Tien and British Ambassador to Vietnam Antony Stokes in Hanoi on November 28.
Under the agreement, the two sides will join hands in education and training, human resources development, research and development of civil nuclear power plants, and the application of radiation and radioactive isotopes in socio-economic development.
They will also strengthen the management of radioactive waste and used materials while cooperating in infrastructure, financial consultation, information and communications, and response to nuclear problems.
Addressing the event, Tien underlined Vietnam's leading and consistent policy of giving top priority to ensuring nuclear security and safety in using nuclear energy for peaceful purposes.
Vietnam attaches importance to and wishes to expand international cooperation in nuclear power, he said, highlighting the UK's rich experience in the application of nuclear energy peacefully, including the development, construction, operation, maintenance, dismantling and management of nuclear power plants.
The MoU will create a foundation for the implementation of future concrete cooperation programmes and projects in this field between the two sides for mutual benefit, he said.
For his part, Antony Stokes said both Vietnam and the UK have given importance to energy sources that ensure environmental sustainability, security, safety and cost savings, including nuclear power.
The MoU mirrors the UK's willingness to share its experience with Vietnam in this important source of energy, he said.
In 2010, the two Governments signed a joint statement on their strategic partnership which says science and technology is one of their prioritised cooperative areas.
Over the past years, Vietnam and the UK have witnessed active developments in scientific and technological cooperation and atomic energy in particular.
Together, they implemented a number of projects, including a project on decoding genes of several Vietnamese rice varieties and another to establish a laboratory at the Vietnam Academy of Science and Technology.
The UK has helped Vietnam train officials in science and technology and organised symposiums on nuclear safety, biological technology, medicine and pharmaceuticals.