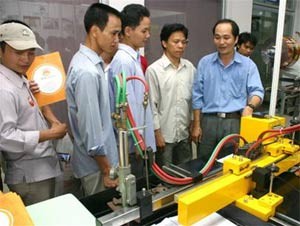 Le Anh Kiet (far right, in blue) explains one of his CNC machines at TechMart 2006
Six years ago, Kiet was running a small metal-cutting workshop that turned out machine parts and spares. At that time, the process needed 10 workers – three for cutting and the rest for rubbing the metal.
Making complex structures or curved parts by hand was difficult and the result was often poor, so Kiet went looking for a CNC metal cutter. They did exist, but the price was way too steep for his budget.
Being the practical sort, Kiet decided to design his own. The first thing was to take some lessons in CNC systems and gather all the technical information he might need by asking around and studiously going through newspapers and technical journals.
Then he set to work on designing a CNC metal cutter. It took him until 2003, but he finally created one that soon proved its effectiveness, although reliability and accuracy left a little to be desired.
The prototype wasn't up to Kiet's high standards and it took three more years of hard graft to arrive at a machine that did everything he wanted.
Le Anh Kiet's metal cutter was featured on the TechMart website, which was set up long before the event itself. It grabbed the attention of Nguyen Thanh Liem, an overseas Vietnamese who is director of the CNC machine trading company AALink in Australia. 
But instead of a metal cutter or two, Liem placed an order with Kiet for a CNC packing machine, trusting that the Vietnamese engineer would have no trouble producing the goods. The packing machine was made in four months and dispatched to Australia.
Speaking at TechMart last month, Liem was fulsome in his praise. "The machine runs smoothly. It features dozens of useful functions such as changing the length of packages, the timing and such," he said.
Further success soon followed and now Kiet's metal cutting and packing machines are being used in Vietnamese shipyards and food factories.
According to one CNC machine operator, Le Anh Kiet's machines are as easy to use as any from Taiwan or Japan, yet the price is just 30 percent that of imported models.