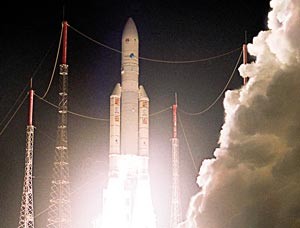 Vinasat-1 is launched on Saturday from Kourou Spaceport
Viet Nam blasted into the satellite age today when a rocket launch from South America propelled its first orbiter into space, allowing it to beam home telecoms data and television signals.
The satellite was launched from French Guiana at about 7:15 p.m. local time yesterday (5:15 a.m. Viet Nam time today). Vinasat-1, a 2.6-ton craft built by U.S. firm Lockheed Martin for the Vietnam Post and Telecommunications Group (VNPT), is the country's first telecommunications satellite, providing radio, television and telephone services across the country.
From a command center outside Ha Noi, scientists tracked the Arianespace rocket as it propelled the Vinasat-1 on its path to hover 36,000 kilometers above the equator.
"This project is politically, economically and socially important," said Prime Minister Nguyen Tan Dung, soon after the launch, noting that it would help to raise Viet Nam's image on the international stage.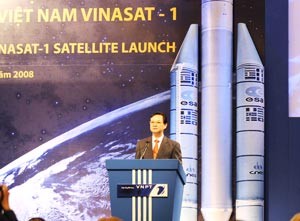 Prime Minister Nguyen Tan Dung addresses the ceremony (Photo: AFP)
He appreciated cooperation from foreign partners in the project and appraised VNPT's efforts to make the project a success. The PM also congratulated Brazil on the launch of Star One C2.

An Ariane 5 rocket successfully deployed the two satellites for Brazil and Viet Nam.
Vietnam Television conducted a live broadcasting program to cover the historic event.
The blast-off represents one great leap for the developing country with patchy phone coverage that only introduced the Internet a decade ago.
The satellite project, worth around US$300 million dollars, "puts Viet Nam on the map of the world for using satellite communications," said Deputy Information and Communications Minister Tran Duc Lai.
"Demand for communications is now booming. Ten years ago we had only fixed telephones. Then we introduced mobiles. In 1997 we started to introduce the Internet," he said.
"Now there is very high demand. We have around 23 percent of people who can access the Internet. By 2010 the target is to reach 40 percent."
With the launch from South America, Viet Nam blasted itself into the satellite age, putting into space its first orbiter that will beam home telecom data and TV signals.
The US$250 Vinasat-1 project will remove dependence on ground networks and allow 100 percent of the nation's rural communities to be equipped with telephones and televisions, Lockheed Martin Commercial Space Systems said. Goldman Sachs Group, Inc. said in an April 17 report that it already rates Viet Nam's Internet development as higher than the average for developing countries, Bloomberg reported.
Vinasat, with a capacity equivalent to 120 television channels, could also bring long-distance learning and tele-medicine to the most isolated regions, said Jim Gribbon, Lockheed Martin's vice president for Southeast Asia.
With Vinasat now orbiting high above the Indonesia-Papua New Guinea border –casting a "footprint" that spans parts of Japan, Australia and Myanmar – Viet Nam hopes to sell excess capacity to its neighbors.
"Other countries, like Thailand and Singapore, have already contacted us," said Lam Hoang Vinh, vice chairman of the Vietnam Post and Telecommunications Group.
15-Year Service Life

Bloomberg said Lockheed Martin was picked in 2006 over competitors including Japan's Sumitomo Corp. to supply the satellite and control-station equipment. Vinasat-1 has a minimum service life of 15 years, according to Lockheed Martin.