Almost 600 people participated in the technology event BarCamp Saigon, a network of user-generated conferences, at the Saigon South campus of RMIT International University Vietnam on July 24.
The attendees included students, professionals, information technology enthusiasts, corporate sponsors, employers, recruiters and educators from Vietnam and other countries.
More than 60 workshops ran during the event – the fourth edition since RMIT Vietnam first hosted it in 2008.
Among them was "Making money with your Android Applications", presented by the university's IT student Thai Ly Cuong. Another RMIT student ran the topic "Long-polling to build real-time web applications".
Meanwhile, a presentation by Fredi Schmidli from SwissITBridge introduced the Scrum methodology to fascinate project management.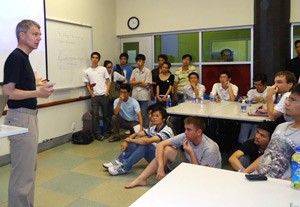 Fredi Schmidli (L) from SwissITBridge introduces the Scrum methodology at BarCamp Saigon 2011 on July 24 (Photo: Courtesy of the organizers)
The Swiss information technology firm has been providing internship jobs to RMIT Vietnam students.
Another workshop discussed how to make a good job application.
RMIT Vietnam's Head of Centre of Technology, Professor Serge Demidenko, said, "For the last three years, BarCamp has been a wonderful networking event for our students, especially for students from the Bachelor of IT program, and provided the opportunity to stay in touch with the latest trends in the technology industry."