38 students from the Ho Chi Minh City University of Technology have together successfully created models of aeroplanes, pursuing their childhood passion.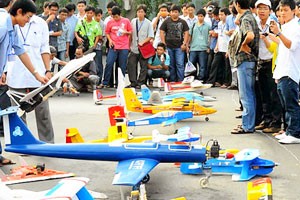 Excited participants at 2010 Aero Day watch handmade model aeroplanes glide
They are all students at the Aeronautical Engineering Department of the University, which is one of the largest national universities of Vietnam.

Despite differences in age, backgrounds or subjects, they collectively joined the model aircraft club as all were passionate about aeroplanes and wanted to enhance their skills further.
The model aircraft club was first established in mid 2009 by a small group of students from the Aeronautical Engineering Department. Ngo Dinh Tri, former student and also instructor at the Ho Chi Minh City University of Technology is presently the director of the club.
Within two years, the club has offered members many opportunities to learn more on structures and operating principles of aircrafts. The students can apply their aeronautical engineering lessons into further practice. 
Every Saturday, the club members come together to share their knowledge of aircrafts.  Sometimes they even make use of their Sundays as well and exchange experiences with other club members.
They successfully presented their achievements and caught the interest of other participants at their university festival, the 2010 Aero Day.
The club contemplated commercializing their aeroplanes three months ago. This would not just bring in the finances but also enhance their creative ideas. My and other members of the club have already received ten orders up till now.
According to Tri, students can brush up their skills more easily through practice. This kind of learning has proved effective to even first year students, who are yet to acquire specialist knowledge.   
In the study environment, students do not have much chance to work with real planes and hence their handmade models provide the necessary lessons on aircraft structures and operating principles.
These after-class activities are also helping forge intimate friendships between students who have one common dream.
Their passion and desire for flying is evident when one watches them indulge in their favorite pastime. 
As 21-year-old Vang Hoang My said, he has been obsessed with aeroplanes since childhood. Now in university, he has enough knowledge and technique to make a model plane on his own.
My spends all free time and savings on his passion. He often stays back at school after class to work on model planes and browse through technical drawings, instead of hanging with friends. 

Moreover, he puts aside a part of his monthly allowance to buy parts to make an aeroplane. Passion and drive have brought all the students to achieve a common goal.