Manually controlled and automatic robots made by the LH LED team of Lac Hong University won the Vietnam Robocon 2010 contest held on May 16.  This qualifies LG LED to compete in the Asia-Pacific Robocon, in Cairo, Egypt in September.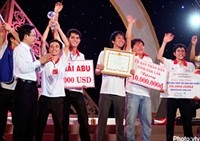 LH LED team members celebrate winning this year's Vietnam Robocon championship. (Photo: hanoitv.vn)
VOI 3 from Hanoi University of Industry took second prize, while NAT-PRO from Hung Yen Technical Teacher Training University and LH BEE from Lac Hong University finished third.
The final round of the Vietnam Robocon 2010, the ninth of its kind, ran from May 10-16, in the Central Highlands province of Dak Lak.
Organized by the Vietnam Television, the final round of the Robocon 2010 drew 34 teams from drawn from 251 universities, colleges and technical secondary schools across the country.