A new variety of rice suitable for fields that flood regularly during rainy season has been successfully grown in trials in the central province of Thua Thien-Hue.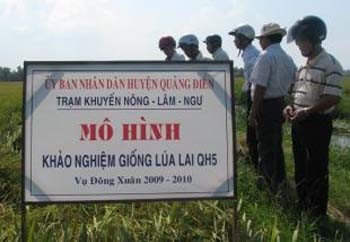 Agricultural officials observe crops of hybrid rice that flourishes amid floods and yields high outputs in Quang Dien District, Thua Thien-Hue Province (Photo: nong nghiep)
Hoang Thong, head of the agriculture, forestry and fishing promotion station in Quang Dien District said that after trial harvests at three cooperatives within the district, the hybrid rice QH5 shows outstanding strength with a high resistance to falling amid flooded fields.
The new rice, a hybrid from three high-quality varieties originated in China, grows with long blooms, big grains, wide limbs, and large, strong stems, suitable for local soil and weather conditions.
The QH5 rice variety also brings higher yields than normal varieties (1000-1500 kilograms/hectare), but has not yet been produced in mass quantity due to the high cost of its seeds.