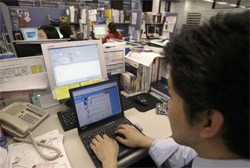 In a Asian software computer.
Microsoft and FPT announced the memorandum of understanding on their cooperation on April 27, 2006. FPT has been the first Golden Partner of Microsoft in Viet Nam since October, 2005.
The memorandum includes six points: conversion and re-development of applications by Lotus Notes to Microsoft technology in ASEAN region; solutions for the government and ministries; launch of optimal models of developing infrastructure based on Microsoft's technology in ASEAN; development of application software for mobile IT and embedded devices; promotion of curricula for FPT Private University and training activities; holding Microsoft Certification exams in Viet Nam, and promotion of Microsoft's solutions for businesses in Viet Nam and in other ASEAN countries.