Intel Vietnam will join the "Computer For Life" program launched by Ministry of Information & Communication.
The program aims to standardize computing to remote areas nationwide. Intel Vietnam will deploy pilot programs including an interactive class, all-in-one (AIO) computer systems, class books,and standardizing computer science class for students.
Upgrading Education quality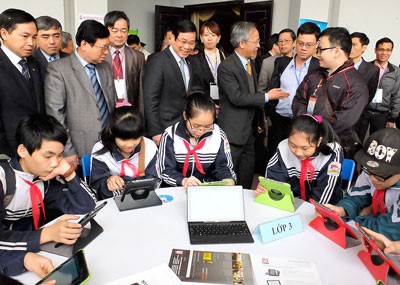 MIC leaders visit classbook exhibition (SGGP)
The company has given 100 classroom workbooks to five classes in Thai Nguyen Province and four other provinces through the Ministry of Information and Communication.
The interactive class aims to raise technology competence. Teachers and students will be using iPads instead of the traditional blackboard and paper.
Class book is new generation high tech production published by Intel and Education Publishing House (EDC). It is installed in over 300 e-textbooks from K-12 grade and has interactive applications & software's for new generations.
Class book equipment is expected to aid student studies.
Narrowing IT gap
The company will continue equipping IT classrooms with iPads, computer AIO and interactive software's to schools in remote areas. This project aims to narrow the IT gap between cities and rural areas.
"IT has become one of important motivation to economic-social development. In many provinces, people do not have opportunity to teach in modern IT services therefore many things must be carried out to narrow the gap in our cities and remote areas across the country," said Minister of IC Nguyen Bac Son.
In 2014, Intel will reach its target to launch over 100,000 computers to the market. These computers will be sold at special prices with free education software.
Intel and Ministry of IC have set up the website for "Computer for life".
Through this program, Intel hopes to be friendly brand name to Vietnamese people and contribute upgrading the IT throughout the country, said Mai Sean Cang, General Director of Intel Vietnam.