The host team from Tran Cao Van Primary School and Hanoi's Viet Kids won the two first prizes in the National Robothon (Robot) Competition at Military Zone 5's Sport Centre in central Da Nang city on November 3.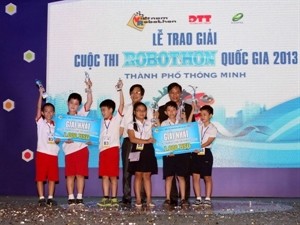 Members of the Tran Cao Van Primary School and Hanoi's Viet Kids at the award ceremony (Source: VNA)
The competition, titled "Smart City", drew over 100 students from 10 primary schools in Ho Chi Minh City, Hanoi and Da Nang city.
All teams had an hour to programme a robot. Da Nang's team won in the senior division (fourth and fifth grades), while the visitors from Hanoi won in the junior division (first and third grades).
The winners will officially represent Vietnam in the International Robothon Competition in the Philippines on November 23.
"It took us only 22 seconds to finish the task. We had a little trouble with our automatic robot, but we settled the problem to win over tough rivals from Hanoi and Ho Chi Minh City," said Pham Nhu Hai, captain of D8 team from Tran Cao Van school.
"The most difficult job was adjusting the light sensor. Our squad of three members worked hard for three months and our efforts paid off."
Le Minh Duong, 9, from Hanoi's Viet Kids, said he was happy with his achievements in his first-ever competition. "It's the first time that I was in a contest far away from home. We felt nervous in the first minutes, but we did our best to win," Duong said.
Jin Chan, vice-president of Eduspec Holding Company from Malaysia, said the competition was good practice for kids to become comfortable with information technology.
"It's an exciting game for kids. It also creates a foundation for students to build their science and technology knowledge. We hope that Da Nang will host another competition," Jin said.
He also said he hoped more teams from Vietnam would compete in the International Robothon Competition in the Philippines.
Nguyen The Trung, chief executive officer of DTT Information Technology Group, who hosted the competition, said over 3,000 primary schools in Vietnam had started robotics programmes since they were introduced in 2011.
This was the first robot competition for primary schools held in Vietnam. Ho Chi Minh City will host the second national competition next year.
Last year, Hanoi hosted the International Robotics competition.