The attack of the Ministry of Education and Training's website by teenage hacker Bui Minh Tri exposed the weakness of local websites. Actually, many seminars have warned about the vulnerable local IT security since 2000, but it seemed that no one took it seriously.
Era of Hackers
Last year there was an infestation of hacking breaches on local websites. For instance, Bui Hai Nam, nicknamed Hainam Luke, unleashed his virus hidden under a link onto Yahoo! Messenger.
The link contains a Trojan program which can secretly install code to enable attackers to gain remote control of a computer
Nguyen Thanh Cong, who uses an online name of DantruongX, hacked the e-commerce website vietco.com offline with his Distributed Denial of Service (DDoS) attack.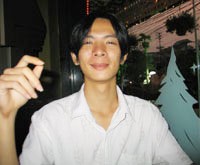 Huyremy
Nguyen Quang Huy, A.K.A. Huyremy, defaced the chodientu.com's site with telling-off, crippling the site for a long time.
Last Christmas, a group of hackers named "Vniss" launched a "one-day campaign", encouraging its members to deface local websites and leave their names and link to Vniss site.
Nhoctaphack hacker was at the vanguard by logging into dozens of websites including inchamvietnam.org, aptech-nghean.com/news.asp and chigiup.com/default.asp, replacing their homepages with a picture of a bird and a message: "This site is hacked by Nhoctaphack. Welcome to Vniss".
According to local web surfers, hundreds of websites felt preys to Vniss last year. And for the present, there are tens of similar groups, driving IT security experts up the wall.
Administrative Penalty: Too Small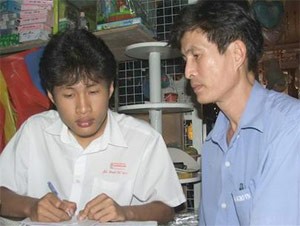 Teenage hacker Bui Minh Tri (left, white)
Teenage hacker Bui Minh Tri broke into the Ministry of Educations and Training's website on November 27th and replaced the minister's picture with his half-naked picture, shocking the IT security community.
A hacker replaced the homepage of the Viet Nam Football Federation website with a picture of a bat on December 31st.
The hottest news is that the online music website nhacso.net and the Ministry of Transport of Viet Nam's site became victims of hackers on the first day of the year.
"Those hacking breaches warned us about the vulnerability of local websites today," an IT security expert says.
According to an official of the Ministry of Public Security, about ten hacking breaches were found last year and the attackers had to pay an administrative fine of US$625 to 1,250.
"While the Criminal Code has no regulations on hacking breach, the fine for hacking website is too small to scare hackers," he added.
More than 20,000 computers were infected with "Gai xinh" virus in two days last year, but the virus maker only paid US$625 in fines.
Huyremy paid only US$625 for taking chodientu.com website. So far, only DantruongX has been prosecuted, but for stealing money by his fake ATM card, not for his hacking of the vietco.com site.
"The Ministry of Justice is, by now, composing, amending and adding some regulations on fighting hi-tech criminals in the Criminal Codes," said Tran Van Hoa, head of the anti-hi-tech criminal department under the Ministry of Public Security.