The Ministry of Information and Communications March 20 in Hanoi gave a total of 31 awards to local businesses that made outstanding contributions to the development of the information and communication technology (ICT) industry in 2009.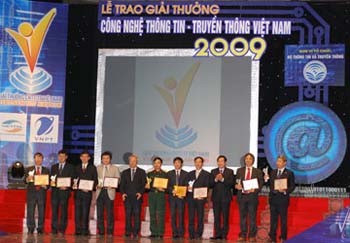 Recipients of the Vietnam ICT Awards 2009 stand on stage March 20 in Hanoi (Photo: ICT News)
The Vietnam ICT Awards 2009, which was held for the first time by the Government, aimed to honor the best companies in the ICT field as well as organizations that efficiently applied IT in management activities.
Vietnam Posts & Telecommunications (VNPT) was awarded the best telephone company, while military-owned Viettel was recognized as the most outstanding mobile service provider.
The best after-payment service award went to the Vietnam Telecom Services Company (Vinaphone), while the Vietnam Mobile Telecom Services Company (MobiPhone) was named the best customer-care service enterprise.
The best Internet service provider award was given to the Vietnam Data Communication Company (VDC) and the best software provider award went to FPT Software.
Speaking at the awards ceremony, National Assembly Deputy Chairman Nguyen Duc Kien said that information and communications companies had made great contributions to the economic growth rate of 5.3 percent in 2009.
The wide application of IT in State-owned agencies and companies together with the popularization and promotion of IT and telecommunications has significantly contributed to the country's economic development.