The year's biggest gaming festival in Vietnam, Asiasoft Game Festival, hosted by one of the HCM City's leading game providers, Asiasoft, will open at 3pm on August 1 at the Nguyen Du Stadium, District 3.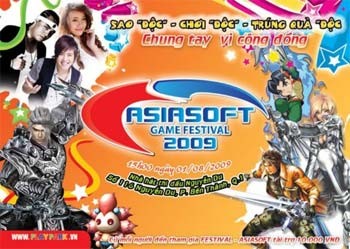 The poster for the festival
Besides presenting new upgrades and special patches, which are only available at the festival, for current online games by Asiasoft, the festival will introduce 'Hybrid Game.'  
The organizers promise to set up computers for gamers to try the new game and receive special gifts.  
Some teenage celebrities, including Elly, Kelly, Sam, and Midu are selected will be guests and will play games with the visitors at the event.  
Singers Wanbi Tuan Anh, Dong Nhi, Ngo Kien Huy and Lil' Knight and some of the city's rock bands, such as Unlimited, Black Infinity, Prophecy and Shortcut are in charge of warming up the festival with various hits.