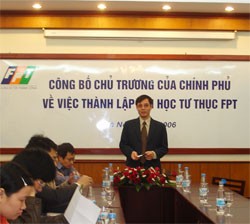 Mr. Le Thanh Tung states in the press briefing to introduce FPT University project (Photo: H.U.)
FPT University, with an initial investment of VND75, is the first private tertiary institution in Viet Nam.
Particularly, the FPT University, a branch of FPT Telecom will cooperate with information technology (IT) businesses in training activities to provide high quality IT human resources for FPT Telecom and other domestic software companies.
"Our teaching program is based on the syllabus structured by the Ministry of Education and Training (MoET). However, some practical topics, such as foreign languages and team-working skills, would be added to meet the increasing labor demand of IT enterprises." said Mr. Le Thanh Tung, would-be rector of the FPT University.
The ISO 9001 standard university is based on multi-modal model, including theory, practice, practical projects and development of personality and social relations.
In addition, modern training methods such as CBT – Computer Based Training, WBT – Web Based Training and VBT – Video Based Training will be applied in teaching.
The FPT University plans to enroll learners for the faculties of computing sciences, computing techniques, software technology, information networks and computer network – communications.
The university is seeking permission from the MoET to provide curricula in foreign languages (English and Japanese).
Students will focus on foreign languages in the first year and then start IT subjects in English or Japanese in the following four years.
"Teaching IT in foreign languages will attract students from other countries, paving the way for the establishment of FPT University's Campuses abroad in the next period." added Mr. Tung.
Nearly 70 post-graduate lecturers have so far applied to become permanent FPT University's teachers.
As scheduled, the university will be located in Hoa Lac Hi-Tech Park in Ha Noi, and preparation for the enrolment is underway in this year. The university's campus in Ho Chi Minh City and in Da Nang City will be respectively run in 2007 and 2008.
Related link: www.fpt.net/EN/