Some farmers in a Mekong Delta province have invented an innovative and simple cable carrier system to transport goods and people cross the canal.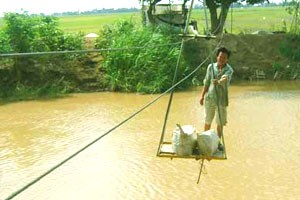 A farmer is using a cable vehicle to cross one canal in Vinh Hau Commune
Visitors come to An Phu District these days can see many cable vehicles transporting farmers across canals. An Phu is one of An Giang Province's nine districts located in the upper reaches of the Mekong Delta.
The first cable vehicle in An Phu was brought into being by Vo Van Ne and his son, Vo Van An from Phu Huu Commune, An Phu District. It is a pyramidal cable vehicle which can carry more than 200 kilograms (440 lbs) each time operating.
Ne's cable vehicle is simply constituted with four iron bars to make a pyramidal frame, a wooden base for three people to stand on, and two jacks to attach the vehicle to two 35-meter long cable wires.
Two strings of rope were passed through the vehicle to move it. Four seven-meter high cement pillars were made use of to hold two sides of the wires. Ne thought up a cable vehicle when seeing the villagers endure serious inconvenience every time they crossed the canal.

This problem became more and more considerable to the farmers who needed to transport rice across the canal.     
His idea, however, was not openly supported by the villagers because they all didn't believe in its possibility.
Ne and his son, therefore, decided to carry out their plan themselves in the early 2007. They spent totally VND 500,000 (US$25) on materials for the cable vehicle.
The first cable vehicle finally got done thanks to the tireless efforts of Ne and his son.
On its first day of operation, the villagers all showed their deep happiness with the achievement of Ne and his son. After undergoing many experiments, the cable vehicle proved their success at last. Since the cable vehicle came into use, many villagers have chosen to utilize it.
Instead of riding motorcycles or paddling canoes, all they have to do is stepping onto the cable vehicle with their cumbersome things such as seed rice, fertilizer and waiting. In a short while, they can get cross the canal without much attempt.
Seeing the practicability of Ne's cable vehicle, Nam Nhan also tried to make a similar one to his neighbor's.
The story of Ne and his cable vehicle was then rapidly widespread, not only in Phu Huu Commune but also the other communes of An Phu District.
In Vinh Hau Commune, for example, we can see many farmers such as Tu Vit, Ba That, Ut Lo, Ut Nuoc, Nguyen Van Tung learnt from Ne's experience and made the same cable vehicles in their habitats. Their constructions of cable vehicles receive much encouragement from the villagers in the beginning.      
There are now more than six cable vehicles across the canals in Vinh Hau District, but none of them is damaged, according to Nguyen Van Le, an official of People's Committee in Vinh Hau Commune.
It is not easy to build bridges in his area and the system of cable vehicles is really meaningful the villagers, Tu Vit said thoughtfully.