Latest models of mobile phone require embedded operating system (Photo: H.U.).
Embedded software and systems are now what local software outsourcing companies are fighting for. Currently these are in much demand of automobile industry and cell phone.
The term "embedded software" is pretty new in Viet Nam recently and not understood by many people. Embedded software is software which is pre-installed into the equipment by the manufacturer and used immediately with that equipment, requiring no installation by a user or a third party, according to Prime Minister's decision on software investment and development.
It means that embedded software exist in any appliances, like TV, fridge, washing machine, air conditioner, mobile phone, etc.
Embedded software: Gold is everywhere?
"The embedded system market is many times bigger than the PC system market. It is regarded as the underpart of an iceberg. For examples, there are more than 80 software programs for driving, brake, petrol control, street finder and air bag installed in the latest car model. The demand for installed embedded software in modern appliances is growing rapidly," said Mr. Dinh Duc Hung, chief executive officer of the HanoiTech Company.
The global embedded system market is expected to be worth nearly US$88 billion in 2009, including US$78 billion of hardware and US$3.5 billion of software, according to a Canadian research firm. However, the growth rate of embedded software will be higher as its current rate is 16 percents/ year.
Big firms like IBM, Microsoft and Intel have early established their own embedded system development departments. Microsoft has moved into the embedded system market with typically Windows CE and Xbox gaming console.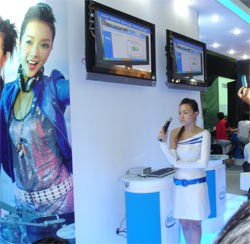 The demand for embedded software installed in LCD TV is pretty high (Photo: H.U.).
Embedded operating system is quite new in Viet Nam. "It is so sad to say that there are just a few "made in Viet Nam" embedded products, and no Vietnamese technologies so far. Local software makers solely focus on outsourcing projects," lamented Mr. Dinh Duc Hung.
"One of the basic reasons holding back Viet Nam's electronic industry, such as TV, fridge, camera, etc, is that Viet Nam does not have an embedded software industry. Thus I emphasizes that embedded software is a golden chance for local software makers," analyzed` Mr. Truong Gia Binh, chairman of Viet Nam Software Association (VINASA).
Vietnamese embedded software moves into the Japanese market
Five sectors require most embedded system are automobile, mobile phone, electronic appliances, automatic production and health care equipment.
The cost for embedded operating system is up to 60 percent of the total investment capital in the auto industry, 80 percent in mobile phone, and 5 percent of electronic appliance.
"Currently it is not the time for hardware development in Viet Nam, so software is our opportunity. Embedded system for car and cell phone is the strategic target and their most potential customer is Japanese," said Mr. Phan Van Hoa, director of FPT Software Company.
Local companies tend to favor Japanese vendors because they expect long-term business relation. Unlike the practical American or North European clients, Japanese partners usually offer long-term contracts, so it is very ideal for Viet Nam's young and inexperienced embedded software industry.
Moreover, Japanese vendors highly trust Vietnamese software maker's capability, though they have already had other big partners like India, Russia and Canada.  
A lot of gold, but it is not easy to pick up
Embedded software and system have increasingly harder requirements. The time to make embedded products is significantly reduced, while expenses are being cut. A good example to be cited here is that new models of mobile phone come out in a very short time.
Quality requirements of embedded software are pretty higher than software for PC. Errors of a PC software program can be fixed after it was handed over to customer, but it is impossible to do so with embedded software. If the software program of an automobile assembly line has problem, the company may have to withdraw all of its products.
Embedded software, similar to PC software, requires skillful human resources. Mr. Dinh Duc Hung said that embedded software training solely exists in some faculties of the National Universities and some training centers of enterprises to train their staff. In addition, languages requirement is a big challenge to Vietnamese programmers. It is not easy to find an engineer with good professional language and good Japanese language command, for example.
Aiming to overcome these problems, Software Technology Institute has been established by VINASA. An embedded software faculty will be founded by FPT University, training students in the Japanese language.
Local experts initially work together with big software companies like IBM, Intel, Hitachi, and Toshiba on producing embedded software. Learning by doing is the most effective and fastest way, said Mr. Truong Gia Binh.        
The chairman of the VINASA said, "It is too soon to come to the conclusion about the future of Viet Nam's embedded software industry. Now it is still in the initial stage, so we have to make a concerted effort. Viet Nam's embedded software industry will grow rapidly if it's put under good direction."