Pham Minh Quy, a student of Tran Phu High School in Da Lat, has invented an automatic plant protection spray machine.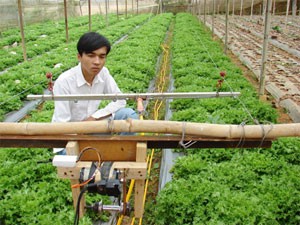 Pham Minh Quy poses with his automatic plant chemical spraying machine
The spray machine is a combination of an old motor improved to run bidirectionally, a length of strap or belt connected with a bicycle hub and a spray lever. The spray lever is fixed to a pipe leading to a container of plant protection chemical. The gadget is a simple mechanism and functions based on the pulley system.

When switched on, the pump will apply pressure to push the chemical to the spray lever and then the pulley pulls the lever so that it sprays the chemical on the plants.

According to Quy, plants with short stems like vegetables, flowers and tea can also be sprayed with this machine as it can work on different terrains.

The total cost of this machine is only VND3 million (US$150) and it can replace 10 laborers. With this machine, peasants can reduce time spent on spraying their crops and exposing themselves to harmful chemicals.