Recently, the Experimental Research Station for Coldwater Fish succeeded in hatching 225,000 salmon eggs at Tuyen Lam Lake in Da Lat City. This is the first time for salmon to hatch successfully in this area.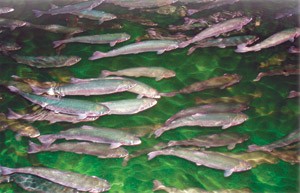 More salmon will hatch in Central Highlands
This was a very positive outcome as about 90 percent of the 250,000 salmon eggs imported from Finland hatched.  
This result is a good sign for the aquaculture industry of Viet Nam. It will mean a reduction in the amount of imported fresh salmon and therefore savings for the local economy.  
Such savings could be reinvested in developing salmon processing factories in the Lam Dong Province and the Kontum Province of the Central Highlands in the future.  
According to some local aquaculture experts, Da Lat City is a good natural environment to breed salmon in particular or coldwater fish in general since this area has the appropriate temperature conditions for temperate aquatic plants or animals.