As soon as next year, vehicles in Europe could be running on liquified petroleum gas (LPG) thanks to the invention of a Vietnamese professor which can convert petrol-run engines into LPG-run engines.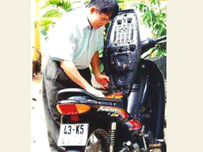 Mr. Bui Van Ga stands beside his 'clean motorbike'

LPG is widely used as a "green" fuel for internal combustion engines as it decreases exhaust emissions. It is also a cheaper alternative to petrol.

Professor Bui Van Ga, President of the University of Da Nang affirmed, "LPG-run motorbikes will appear in the European streets in the near future. We have already successfully negotiated and signed deals to export the necessary accessories to those countries."

While touting this new arrangement with the Europeans, Professor Ga used the forum as an opportunity to publicize his new invention, LPG-run three-wheeled vehicles used for waste transport in Viet Nam.

Professor Ga, who has gained considerable notoriety for his 'clean motorbike' project underway in the central city of Da Nang, has surprised people once again with his latest invention.

In an effort to reduce the workload of waste management workers in urban areas, Professor Bui Van Ga and his colleagues spent seven months researching a way to make a three-wheeled LPG-run vehicle effective for waste transportation.

The Da Nang Urban Environment Company made their assessment of this invention known. According to their findings, this invention would increase the capacity of waste transport and markedly improve labor efficiency.

There is already a plan in place to build 100 test tri-wheeled vehicles by next year, which will use Da Nang as a testing ground. "Once this implementation is successfully conducted, the technology will then be incorporated into other cities in Viet Nam", he said.

The director of Espace Loisir, a French agency dealing in motor trade, repair, and installation, Michel Lefebvre, accidentally stumbled upon news of Professor Ga's invention while he was surfing the web.

After reading about the set of motor conversion accessories Professor Ga produced, he came at once to Viet Nam to meet the inventor.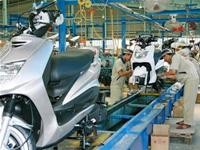 Will made-in-Viet Nam LPG-run motorbikes find their way to foreign market?
After touring the workshop and running one of the prototype motorbikes, Mr. Lefebvre was so pleased, he exclaimed, "Excellent! I cannot tell the difference between the petrol-run and the LPG-run motorbikes. Having 30 years experience in the motor industry, I think this invention is of great significance."

At the moment, European countries are focusing more attention on environmental pollutants and energy shortages, Mr. Lefebvre added.

Thus, Professor Ga's invention will allow for manufacturers and motorists alike to help reduce problems associated with both issues.

In addition, while the price of petrol is very high, especially in developed nations, the price of LPG is relatively cheap, so users would help the environment, take pressure off of over burdened energy producers, and be able to save money in the process.

According to a deal between Professor Ga and Espace Loisir, the company will help integrate this invention into 17 other European countries starting in 2007.

Espace Loisir is already preparing to hold an exhibition on LPG-run motorbikes in Italy and France in the fall of 2007. "We are currently negotiating the matters of technology transfer and price. Certainly, the product will bear a Vietnamese brand name." Mr. Lefebvre said.

Recently, representatives of Global Impexs Motor Cambodia Co. Ltd came to Da Nang City to sign a contract purchasing 400 sets of the motor conversion accessories for the Cambodian market at the price of US $70 a set. If the motor conversions are successful, they plan to purchase up to 10,000 more sets in the following years.

At the end of November, the executive of India's EG Gas Limited, Kailash Mishra, will come to Viet Nam for importation negotiations. A myriad of other potential trade partners from Australia, Thailand, and Africa have also proposed future interest if the conversion accessories prove to be successful.