Microsoft Chairman and Chief Software Architect Bill Gates, the richest men in the world, will pay a visit to Ha Noi on the evening of April 21, 2006.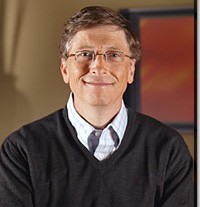 Microsoft Chairman Bill Gate
The Microsoft founder is expected to have a meeting with Vietnamese government's leaders, including Prime Minister Phan Van Khai and President Tran Duc Luong.
He will also meet with Vietnamese students, IT community and attend a conference on IT development in Viet Nam.
As scheduled, Gates will also visit Bac Ninh Province to officially open Oneclick project, which enables Vietnamese with average income to easily own a computer with licenced Microsoft software, assembled by CMS company.
Bac Ninh Province is the place where a community internet program via local post offices was successfully launched. E-government was also effectively set up in the province's agencies.
Gates will leave Viet Nam on April 22, 2006.
Related Links: