Standing alongside the latest in technological advances, the farm machines and other backyard inventions on display at the Techmart show in Da Nang proved very popular with the crowds and the hall was abuzz with admiration for the "barefoot scientists" who had designed and built them.
Two inventions in particular went down well: an electric cart that can climb stairs, designed and built by 60-year-old Vo Dinh Minh of Binh Dinh Province in Central Viet Nam, and a composite coracle made by retiree Nguyen Xuan An of Ha Noi to save the lives of fishermen at sea.
Vo Dinh Minh's electric cart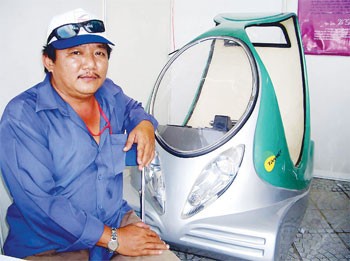 Vo Dinh Minh introduces his invention, an electric cart that can climb stairs
After a serious illness, Minh's feet were paralyzed and he had to take whatever work he could find like collecting waste and fixing motorbikes to make ends meet.
He bought an old motorbike to travel hither and thither and added two back wheels to suit a disabled person like himself.
Then he decided to do something about a motorbike's biggest disadvantage – it cannot go backwards under its own steam. The idea of a reverse gear flashed into his mind and so he put one in.
His ingenious invention soon became a hit. It got to the stage that so many people were coming to his house to see the motorbike that he decided to build a factory to make all kinds of devices for the disabled.
Next, Minh thought about a small cart that could go upstairs, and built that too. The cart is designed to protect the driver by stopping automatically if the battery is low or there's a fault in the electrical system.
He named his invention "Tam Viet" to describe the heart of the community-minded Vietnamese inventor.
Minh employs dozens of people in his factory. His burning desire is to find a generous organization or individual who will pay for more electric carts for the disabled to use in public places.

Nguyen Xuan An's composite coracle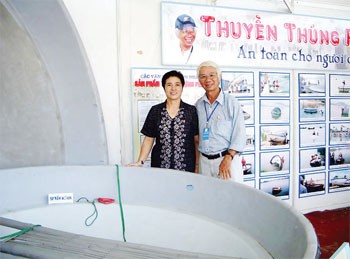 Nguyen Xuan An and his wife stand beside composite coracle
While Vo Dinh Minh invented his cart for his own benefit, at least initially, Nguyen Xuan An came up with the idea of a composite coracle in response to the huge numbers of fishermen who die in the typhoons that strike the central coast every year.
His lifesaver is the same size as a traditional coracle but is made of a very buoyant composite material, so it floats better.
A fixed safety belt prevents the occupant from losing contact with the fishing boat, and there is a 25-cm diameter valve in the middle of the boat for turning the coracle into a lifebuoy.
"This is a unique coracle with a hole in the world," says Mr. An proudly.
The Ministry of Fisheries is so keen on An's invention that it is helping him apply for a patent from the National Office of Intellectual Property.
Happily, eight people have teamed up to make the composite coracle for fishermen in the center and the south.
Nguyen Van An was rewarded for his efforts by receiving one of the 72 golden cups presented to Techmart's outstanding group and individual exhibitors.
Other barefoot scientists also received golden cups, like Dang Loi from Ca Mau for his fish-feeding machine and Bui Thanh Hung for his unique mud dredger.
The awards were presented by Minister of Science and Technology Hoang Van Phong and Da Nang People's Committee chairman Tran Van Minh.
In all, 235 contracts and memoranda of understanding valued at VND700 billion were signed at the equipment and technology show, which drew more than 100,000 visitors.

Related articles:
Techmart 2007 Supports Public Inventors
Da Nang Hosts Techmart Viet Nam 2007