A farmer in the Mekong delta province of An Giang has been successful in inventing a machine that can pick up unhusked rice at 15 tons an hour, thereby saving the labor cost of about 30 workers.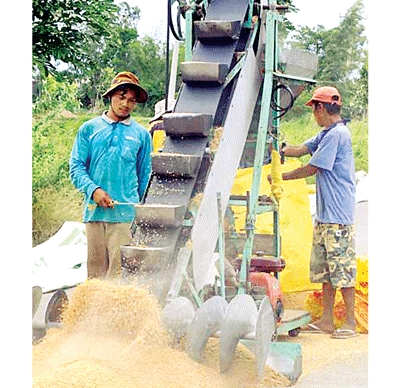 The new machine picks up dried rice and saves labor costs (Photo: SGGP)
Nguyen Van Hong, 49, from Chau Phu District in the Mekong delta province of An Giang has invented a machine that picks up 300 sacks of unhusked rice within an hour, as efficiently as 30 manual laborers.
 
The machine can pick up 120 tons of unhusked rice in eight hours, consuming only four liters of petrol.
 
Nguyen Van Hong has so far manufactured four such machines and sold three of them for VND25 million (US$1,202) each, to other farmers in the area. He has kept one machine for his own personal use.
 
Hong used to earlier be a mechanic. However, he switched to doing business of buying and selling rice. He purchases around 3,000 tons of unhusked rice and then grinds it to sell to exporters.
For his work he needed the help of around 30 laborers, to dry the unhusked rice in the sun and then pick up the dried rice to fill into bags.

He used to spend a lot of money on hiring labor, but after he invented the machine he is saving all the money he was paying for labor earlier, and now hires only three men to operate the machine.