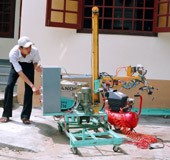 Minh Quan starts his robot(Photo: NLD)
Le Trung Minh Quan, a twelfth grader at a high school in the central province of Quang Ngai, picked up the first prize of a prestigious nationwide contest in September, which focuses on the creativity of the Vietnamese youth.
His brainchild is a robot which can paint automatically. The robot not only paints, but it does so efficiently. Minh Quan's robot can paint at least 50 square meters of wall per hour, equal to the performance of about 25 painters.
Idea from Life
Minh Quan recalls, "I live in a new urban zone where many new building are being constructed. The idea of making a wall painting robot came to me as I witnessed accidents at those construction sites caused when workers up on scaffolding were trying to paint the walls."
At the outset, Minh Quan invited a few friends to team up with him, but his friends did not take him or his idea seriously. So, Minh Quan asked his parents for support.
"At first, I thought my son was just kidding, so I agreed to humor him," said Nam, Minh Quan's father, a civil engineer.
Studying, Studying, and Studying
To make an automatic robot, Minh Quan started out by studying the automation of a bottle picking machine as well as aspects of an automatic assembly line at the Dung Quat beer factory.

He also went to the Da Nang Province University of Technology to ask questions and learn from the students at faculty of the mechanics department.
"I leaned a lot from those visits. Those experiences helped me avoid making some common mistakes as I put together my automatic robot. The most important thing I learned is in regards to the principle mechanics they taught me about my robot," Minh Quan says.
Once he had the advice of the university faculty and students, Minh Quan spent almost 6 hours a day studying from ten textbooks about automation, which are usually used for university students. After sufficient study he was ready to apply his knowledge. He spent a lot of time scouring the Nhat Tao Market, a renowned place for electrical parts in Ho Chi Minh City, for the components he needed.
After 8 month engaged in studying and assembling, Le Trung Minh Quan was ready to debut the robot he had built, which measures 1.4 meters in height and is 280 kilograms in weight.
To start painting a wall, the user inputs the parameters, and the robot does the rest. After finishing the robot in June, he practiced by painting and then repainting his parents' home 7 times.
The robot, which proved to be a success at the contest, is also seeing practical success in the needs of business. As mentioned earlier, the robot can work much faster than a human, and is also more efficient with the amount of paint it uses. Painting and construction companies have already expressed interest in Minh Quan's design.
Minh Quan is scheduled to exhibit his robot at the Viet Nam Idea Exchange in Ho Chi Minh City on 3 December. Additionally, he is using the money he made from the contest to build a smaller and more flexible model about 70 centimeters in height and 8 kilograms in weight, made of stainless steel. He plans on entering the second and smaller model in international robotics contests in Korea, the US, and Japan next year.