Quang Ninh Province, home to famous Ha Long Bay, has outlined a detailed plan to call on the public to vote en masse for the bay as one of the world's seven natural wonders.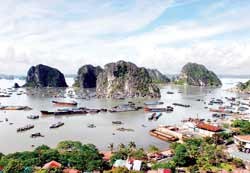 Ha Long Bay

The appeal follows a program launched by the Switzerland-based NewOpenWorld calling for people worldwide to nominate and vote for natural monuments and landscapes as natural wonders.

Ha Long Bay, located in northern Quang Ninh some 165 kilometers from Ha Noi, was chosen by NewOpenWorld as a valid candidate for nomination. According to NewOpenWorld, nominated sites must be natural landscapes not altered by humans. It lists 15 categories to help people to easily define and select natural sites. For example, big forests and natural reserves are listed a possible natural wonders.

Under the list of potential candidates, Viet Nam also has Phong Nha-Ke Bang National Park in the central province of Quang Binh and Nha Trang Bay in the central province of Khanh Hoa.

Previously, local government held a meeting with the media and provincial departments and agencies to discuss an advertising campaign to promote Ha Long Bay. Under the plan, the province will focus on calling pupils, students, civil servants, Internet users and foreign tourists to vote beginning in August.

The Ha Long Bay Management Board has been tasked with promoting the bay through its website and publishing color leaflets introducing Ha Long and its candidacy among 21 nominees for the world's seven natural wonders. The head of the board said they will work with travel companies, restaurants, hotels, boat owners and tour guides in order to call on foreign tourists to vote for Ha Long.

Local authorities sent a note to all departments and agencies introducing the website http://www.natural7wonders.com/ where people can vote. The voting process is divided into two phases: nomination and voting. Readers can visit the website to nominate natural landscapes as world wonders, as organizers wish to collect opinions from across the globe before announcing the list of the 21 brightest candidates. Next will come the voting phase, with the results to be announced on August 8, 2008.
Vice chairman of the Quang Ninh People's Committee Nguyen Hong Quan said it was wonderful to propose Ha Long Bay as a world wonder, as it provides a chance to advertise both the bay and Viet Nam tourism.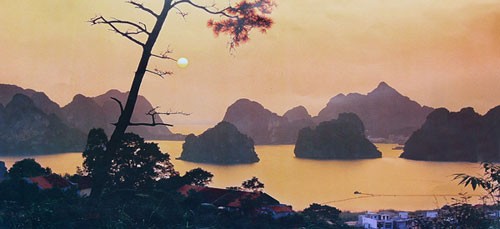 Ha Long Bay
Ha Long Bay (which translates to, Bay of the Descending Dragon) is located in the Gulf of Tonkin, including some 1,600 islands and islets, forming a spectacular seascape of limestone pillars. Because of their precipitous nature, most of the islands are uninhabited and unaffected by human presence. The site's outstanding scenic beauty is complemented by its great biological value.

One of the main attractions of the bay is its calm water and the thousands of limestone mountains dotting the seascape. The bay's water is clear during the spring and early summer, and some of the islands are quite large, with small alcoves and sandy beaches where swimming is possible.
Motor racing ban:
The Quang Ninh Province People's Committee has put an end to motor racing activities in Ha Long Bay from August 6, following UNESCO's warning that such activities would affect the natural landscape and geological values of Ha Long Bay.
As part of the advertising campaign for the bay to be one of the world's seven natural wonders, the province has recently tightened control on aquaculture in the bay as well. Accordingly, houseboat owners from other provinces are not allowed to rear fish there, while native owners will be relocated. The province will soon deal with slow-paced urban development projects which are negatively affecting the site's beauty, and no new projects will be approved.
Enjoying the beauty of Ha Long through Vietnamese software:
If you do not have a chance to explore the mysteries of Ha Long, you can download Vietnamese software designed by Phan Anh Tuan (33MB) on the website http://www.echip.com.vn/.
One can learn basic information of Ha Long at the home page or search for details about its caves, islets and beaches. At the "video" page, one can watch Ha Long from high above and from down low and explore the life of the locals as well as a photo collection about the area.