Just a few months ago, if you wanted to listen to a live Quan Ho performance, you would have to wait until the beginning of spring when the annual Lim Festival or Quan Ho Folk Song Festival takes place on the 13th day of the first month of the Lunar Year.
Today, all you need to do is to dial a cell phone number, state the song of your choice, and enjoy a live performance of your favourite song by a male or a female singer over the phone. Quan Ho is a form of Vietnamese folk music that originated in what is now Bac Ninh Province in the 13th century.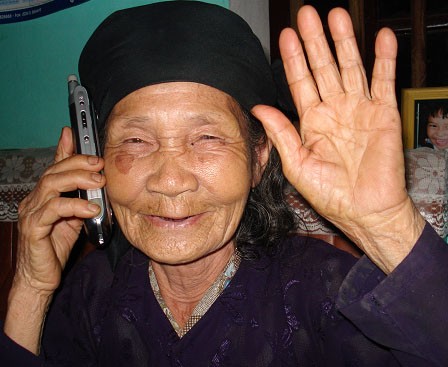 Old diva Nhi
This instant, by-demand service is probably a first of its kind in Viet Nam, and is fast gaining fans and popularity. It all started at a Quan Ho Singing Contest organized by the Bac Ninh Provincial Department of Culture, Sports and Tourism during the 2008 Tet holiday in an effort to introduce Quan Ho to the masses, especially the younger generations, who seemed to have a less and less interest in this folk art. As if to prove the point, contestants were all senior citizens over 70 years of age.

During the contest, Mr. Tran Van Quyen, head of Hoa Dinh Village Quan Ho Club, unexpectedly received a phone call from a female stranger who asked him to sing her favourite Quan Ho song over the phone to her as a gift.
Taken aback by the novel proposal but not wanting to disappoint the lady, Quyen sang the song there and then, and was surprised to see that the performance went rather well over the phone.

After the contest, Quyen began to receive more and more phone calls requesting him to sing Quan Ho songs. Some callers were Quan Ho lovers living overseas, most were from other provinces. Seeing a niche, club members began planning an over-the-phone service for live Quan Ho performances.
The idea was simple – keen listeners ring up club members' cell phones with their requests, listen to a live performance, and then pay as they wish to the club's bank account.

The plan was agreed by all club members in principle. The problem was that none of them, except Quyen, had a cell phone. For many Vietnamese born in the 1930's and 1940's before the digital age, owning a cell phone is both a luxury and a novelty that hardly ever crosses their mind.
Now that the enterprise could not be made possible without cell phones, it fell upon the hapless children of these phoneless and fundless seniors to find the necessary money for the purchase, many of whom had to move heaven and earth to acquire the extra cash as they did not want to see their parents disappointed.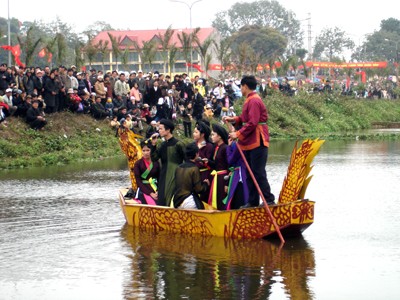 Quan Ho singers perform in a dragon boat in Lim festival
Early one morning in Gieng village in Bac Ninh Province, which has long been viewed as the cradle of classical Quan Ho singing, five elderly Quan Ho singers gathered at the house of lady Nhi, herself a living Quan Ho treasure, to begin a working day.
All were equipped with a cell phone, admittedly not the latest or trendiest model, but enough to keep them connected to the rest of the world.

A signal came from old lady Nhi's pocket, from which she pulled out a Samsung D520 and listened to it intently.
After a brief conversation, the old diva busted into song in a singing style which involved an admixture of the various transitions, diverse, recitative airs into a semi-operatic moan that was peculiar to the modern Quan Ho art and would probably be somewhat disconcerting to the uninitiated.
Once finished, lady Nhi turned off the cell phone while her completely toothless mouth broke into a big smile - "the customer called me from Canada", the old lady proudly said.

For many club members, such joy did not come cheaply. In the case of lady Nhi, her children had to borrow money from neighbors and then sell their rice at harvest to repay the debt.
For old Mr. Minh, a singer of Dao Xa Club, the dream of owning a cell phone nearly did not happen until he ingeniously resorted to hunger strike to pressure his children into getting him one. Yet not all were tales of struggle – the children of Hai, another member of the club, bought him a brand new Nokia 8800 without as much a thought as they were affluent traders.

Club members said that they provide the service not because of money but because they wish to help revive and popularize the Quan Ho art in the high hope that it will be recognized as a UNESCO cultural heritage one day in the future. Quyen said, "We never charge listeners for our singing.
The remuneration we get from our customers depends on their generosity. Some didn't pay or maybe they forgot to pay, but we didn't care."
A request came on Quyen's cell phone, to which he began to sing a classical Quan Ho song titled "Now You Are Still Lovely and Attractive"

"Now you are still lovely and attractive,
Men wait at your house to pick you up and take you home without fail.
But some day when you are tired and weathered,
They will care of your coming and going no more.

Now you are still lovable and attractive,
Men sit under the banyan tree to wait for you to walk past,
But someday when you are old and withered,
They will sit by the rose bushes to pick the flowers instead."

Quyen was totally absorbed during the performance. His face shone with happiness. Looking at Quyen, his son added, "From time to time, my father tries to give me back some money from what little earning he makes, saying that he wants to pay for the purchase of the phone, but I don't care about it. It's his happiness that matters to me. Seeing the joy in my father's eyes is reward enough for me. May he live long to give countless more Quan Ho performances! "