A concert featuring romantic and contemporary songs by overseas Vietnamese singer Le Thu will take place at the Ho Chi Minh City Conservatory of Music at 8pm on August 24 and 25.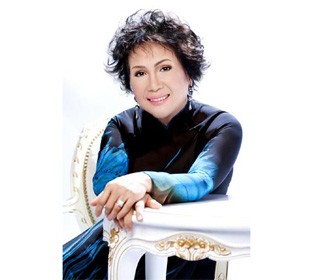 Singer Le Thu
Le Thu was born in Ha Phong City and has 40 years' experience singing. She was once on of the big names at music clubs and bars in Sai Gon before Liberation Day, April 30th, 1975.
She is well known for her sad renditions of love songs by famed musicians Cung Tien, Trinh Cong Son and Pham Duy.
After living in the US for 28 years, she has returned home for the first time and took part in late musician Trinh Cong Son's music night along with other local and overseas Vietnamese singers at Hoa Binh Theater in HCMC on June 22 and 23.
Audiences met again a charming woman in an ao dai (traditional Vietnamese dress) and warm, thick, passionate voice.
She was moved to realize that local music lovers still remembered her and supported her enthusiastically, showing their deep fondness for her.
In her coming show, the veteran singer will present such classical and immortal songs as Dem Dong (Winter Night), Schubert's Serenade composed in Vietnamese by famous musician Pham Duy, Tinh Hoai Huong (Nostalgia), Nghin Trung Xa Cach (A Thousand Leagues Away from Each Other), Chiec La Cuoi Cung (The Last Leaf) and others.
The show will also feature well known tenors Cao Minh and Trong Tan as well as the chamber orchestra from the conservatory under the baton of Hoang Diep.
Tickets are available at the Performing Center of the HCMC Conservatory of Music at 112 Nguyen Du St, District 1. Further Information: ttbdnhacvienhcm@ham.vnn.vn, tel 08 – 8243774 or 0903 949496.