Speculation and theories abound on the origins of the ao dai, the traditional Vietnamese dress that means a long dress or tunic.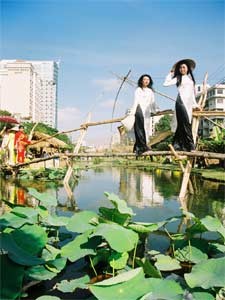 The ao dai is a distinctive costume of the Vietnamese people, not related to any other ethnic people's clothes (Photo: Hoang Thach Van)
While there is no doubt that the dress is steeped in the nation's history and culture, the ao dai has been seen as a variant or derivant of the ethnic dress of the Cham people or of the Chinese cheongsam. It has also been said that the dress is related to the four-paneled gown that used to be worn in the north of the country.
However, Nguyen Phuc Ung Vien, one of the nephews of King Minh Mang, the 2nd king of the Nguyen dynasty (1802-1945) disagrees.
Still keeping an ao dai made 162 years ago as evidence for the true origin of ao dai, Vien says that the ao dai is a distinctive costume of the Vietnamese people, not related to any other ethnic people's clothes. It has existed in Viet Nam for about 400 years and is widely recognized in the world.
What is not known to most people is that the ao dai has a unique configuration that has a bearing on the wearer's health and life.
Very few people, except those who belong to the royal Nguyen Phuc clan, are aware of the characteristics of this configuration that is closely related to the Oriental medicine tradition of acupuncture.
Accordingly, the sleeve of the ao dai ends right at the Neiquan point at the wrist of the wearer. The folded layers of the sleeve-ending have a role in activating this point.
The stitches making the ao dai tighter under the armpit have to go through the Feishu point on the shoulder blades.
The folded lines created by stitches at the back of the wearer have to run by the Weishu and Shenzhu points.
The first of five buttons of ao dai has to be fixed at the Tiantu point.
The belt knot of the pantaloon worn with the ao dai has to be formed between two points – Qihai and Guanyuan – at the surface of the abdomen, and the end of the pants has to cover the Xingjian point on the feet and another point at the lowest part of the leg.
Wearing the ao dai and pantaloon set, in combination with the use of popular remedies for throat sores, bronchial inflammation, digestion problems, heart attack, back pain, migraine, etc., was once the secret of good health of the people and soldiers, old and young alike, under the Nguyen dynasty.
This is the reason why Chinese kings in the old times required Vietnamese courts to offer them qualified physicians and skilled tailors, among other tributes.
As long as the ao dai lasts, our nation will endure.