Sai Gon is a noisy city, filled with sunlight, shouts, rainstorms and automobiles. It's no surprise that many people wish to seek a quiet place to relax and retreat into themselves. "Bird Café," of Tao Dan Park in the center of HCMC is one of the favorite places for determined relaxers to find a little peace.
Peaceful corner in the city.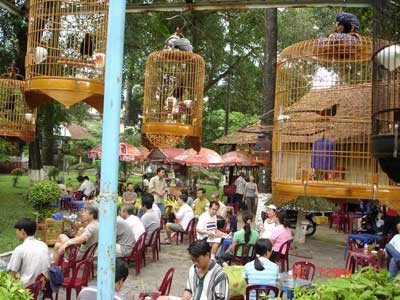 A peaceful morning with beautiful bird songs in Tao Dan cafe. (Photo: Ha Diu)
Life in an industrious city like HCMC makes most everybody feel the absence of nature, and here's where Tao Dan Café with its beautiful bird songs comes in. Though it doesn't have air conditioners, its patrons like it enough – it is part of the increasingly popular crowd of all-natural cafes featuring an absence of such common niceties.
Sitting here in the morning, one feels peace so acutely that even the falling of leaves is moving. Whether one prefers to observe others or focus inward, your thoughts are your own in the park.
Visitors will notice many types of people coming into the café. Many drop in after physical exercise, calling orders for coffee and chatting excitedly about anything at all. Women sit together, exchanging news of their kids before hurrying off to markets. Men talk about news, war stories, and sports before also hurrying off home from the office.
The café has been here a long time, outlasting its owners more than once, but its clientele has been faithful. Some of its patrons, now grandparents, have been coming here since they were twenty years old.
Meeting place for leisured time.
One of Tao Dan Cafés main draws is its population of sweet-voiced birds. Every morning, aviculturalists collect in the café with cages in hand, talking together of their passion and experience in breeding birds, showing off their prizes and listening to their gentle chirpings.
They particularly love the minute in which their bird raises its voice for the first time, bringing old men joy enough to rival that of a little child. As a result, Tao Dan Café is quite popular with elders. Although many do not breed birds, they like to hear the craftsmen's talk of their hobby.
Now decades old, Tao Dan Café has never been deserted, even when bird flu broke out in the city. Without the birds and their songs, clients still visited the cave then – sad, but not disappointed, waiting patiently for the return of the birds' music.