Tan Chau Silk has become increasingly famous ever since fashion designer Vo Viet Chung began to light up the catwalk in recent years with collections like "Mrs. Ba from Viet Nam", "Dream of Asia" using this material.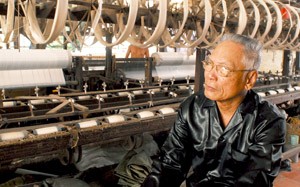 Mr. Tam Lang, the last of silk artisans in Tan Chau

But the credit for crowning it as "the queen of silks" goes not only to Chung, but also to silk artisans in Tan Chau, a district in the Mekong Delta province of An Giang.
They have worked hard to preserve a traditional handicraft over which the scepter of extinction has loomed for long.
To make just a few meters of this velvety, burnished material, artisans have to work hard for two months. They buy the best silk fiber and weave thread into white cloth. Then they dye the cloth using natural colors extracted from fruits and leaves. The process of dyeing is the hardest work.
It takes two months to turn white silk into shining black because artisans have to dye and then dry it a hundred times. Consider this: On a sunny day they can dye and dry the silk just four times. The black color is obtained from the juice of the mac nua fruit that grows along the Mekong River.
In the past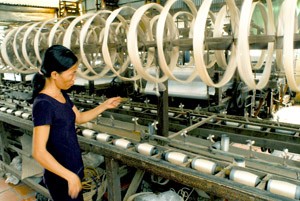 Spinning silks for weaving cloths in an assembly line
In Tan Chau silk weaving is an ancient craft. It has been described in literature as a product that had many buyers. Ships came very frequently to carry the material to Cambodia, France, India, China, and other countries.
Tan Chau became the most important center for silk in southern Viet Nam. Centers to breed silkworms and unravel their cocoons mushroomed, groves of green mulberry extended as far as the eye could see, dense lines of mac nua trees stretched along river banks.
In the dry season, when there was no rice farming to be done, people began to produce silk. The noise of weaving could be heard from early morning to dusk, and the sight of drying silk was everywhere.
Over time, the demand for Tan Chau Silk began to drop, even at home. By 1945, when artificial fibers began to be shipped to Viet Nam at cheap prices, many artisan households switched from weaving silk to nylon.
The Tan Chau silk industry was at the crossroads because of high costs, its labor-intensive nature, and the drawn-out nature of silk-weaving.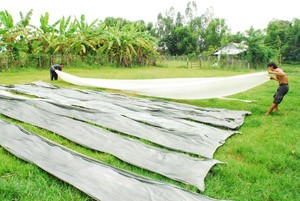 Artisans have to dye and then dry the silks a hundred times to turn them into shining black from pure white
A few years ago Mr. Tam Lang was the last of the silk artisans left in Tan Chau. In 1996, with industry poised on the brink of dying out, he decided to buy all the traditional silk weaving and spinning machinery left in the district and opened a textile mill.
Some time later a French woman came way to the factory and saw some Tan Chau silk. She was captivated by the majestic, shining material but amazed that there was only black silk.
Tam Lang's son Nguyen Huu Tri happened to overhear the conversation between his father and the lady, and decided to look for the other traditional colors among the Khmers and some ethnic groups living in the highlands. He spent 20 years traipsing the region and testing products before finally managing to lay his hands on the seven primary colors.
In 2003 Tan Chau silk attracted the attention of Chung, who was looking for materials for his graduate collection for a course he was doing in Italy. Tan Chau silk is tough but light, has fast colors, and is cool in summer and warm in winter.
After putting on three shows, Chung received invitations for tie-ups from international organizations and Tan Chau silk once again began to command a market.
Thanks to one man's dedication to preserving his forebears' craft and another's golden hands, Tan Chau silk is becoming increasingly popular on catwalks and elsewhere around the world.