The Ramana Hotel Saigon has just appointed a new general manager who has worked for years in the hospitality industry in Vietnam and elsewhere.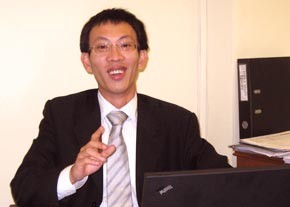 James Ngo in his office at Ramana Hotel Saigon (Photo: Tuyet Anh)
Mr. James Ngo, the general manager, had worked at an international hotel in Dubai, United Arab Emirates, before taking his new position in Ho Chi Minh City.
"My mission and vision here is to make the Ramana Hotel be the leading model in hospitality through maintaining highest quality of services and novelty of product range in a profitable manner to satisfy the needs of its patronizers," he told Saigon Guide.
"I'm lucky to have years working in the hospitality industry in Vietnam and Dubai, as well spent six years studying in Switzerland on hospitality. I hope that through my infusion of knowledge and real experience into managing Ramana Hotel Saigon, I contribute partly in growth of the local hotel industry too," he said.
The four-star hotel has launched its Autumn promotion, lasting until November 15. It is serving over 50 selected international dishes prepared by Chef Danny Koh from Singapore. Guest are also offered free flow of Tiger Draft Beer, Pepsi, Coffee and Tea. The promotion is available everyday from Monday to Saturday, 6:30 pm to 10:00 pm priced at US$20++ for adult and US$10++ for a child under 10 years old. For booking, call Ramana Hotel Saigon's Cafe Singapore at (08) 3843 9999, ext:8123.
Address: 323 Le Van Sy Street, District 3, HCMC