More Sea Routes Opened to Quang Ninh
According to Mr. Nguyen Van Thanh, Director of Quang Ninh Province Service of Tourism, the sea route between Ha Long (photo), Viet Nam and Beihai, China was officially opened on October 28, 2006. Travel on this route is provided by two cruise ships with a maximum capacity of 900 passengers each.
Another sea route, between Ha Long, Viet Nam and Sanya, China was opened on November 5, 2006, and in late December the Ha Long, Viet Nam to Hainan China route will be put into service. These new sea routes are expected to attract 300 to 400 thousand foreign tourists to Quang Ninh each year. Anyone wishing to use this route must present a passport with a valid visa.
L.K
Ha Noi Recognized as a Destination for Unique Food Flavors
Ha Noi has been recognized by MSN's travel page as being one of only two Asian cities named in a list of the best cities in the world to experience unique local flavors and specialties. In fact Ha Noi came third in a list of the top 10 cities.
The story published on MSN stated that, "If you like your noodles, you'll fit right in with the noodle-crazed populace in Hanoi. Whether eaten wet or dry, for breakfast, lunch, or dinner, noodles infused with the freshest herbs, spices, vegetables, fish, or meat, make up a large part of the Vietnamese diet." The article also went on to describe how the Le Mat restaurant, just east of Ha Noi, serves an interesting seven-course snake dinner well worth a visit.
Ngoc Lam
Airport Fee Hides in Ticket Price
The Deputy Transport Minister, Nguyen Tien Sam, has just approved a new method to obtain airport fees for passengers taking international flights. The surcharge will be included in the ticket price and processed by the airlines.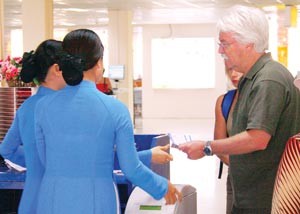 At Tan Son Nhat, international airport
This is a change from the previous method of charging the tax separately from the ticket cost, and requiring customers to pay it when they arrived at the airport.
Rates from Tan Son Nhat and Noi Bai airports will be set at US $14 per person, an increase of US $ 2.
Q.Th
Food and Drink Expo 2006
The Food and Drink Expo '06 will be held on December 13-17 at Military Zone 7 Stadium (202 Hoang Van Thu Street, Phu Nhuan District) and funded by Ho Chi Minh City People's Committee.
There will be more than 200 stalls including canned food, candy, vegetables, soy sauce, and food processing equipment. On this occasion, the Organizing Board will award prizes for the "Safe Quality Food" contest jointly sponsored by Ho Chi Minh City Food and Foodstuff Association and the Saigon Economic Times.
In addition, the Food and Drink Expo '06 will provide other activities such as flamenco performances and question and answer sessions with famous Vietnamese singers. Many unique Vietnamese dishes will be available.
K.X