Over the past decade, foreign translated comics have flooded the local market. More than 90 percent of these come from Japan. One comic writer who helping to create a Vietnamese response is Ms. Tieu Vi Thanh, a skillful graphics designer. She has spent her own money to publishing two series of bilingual Vietnamese – English comics with great illustrations for Vietnamese children.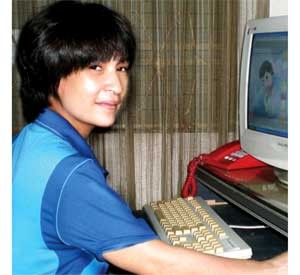 Artist Tieu Vi Thanh
Like other local comic producers, Thanh has been well aware of the "unequal battle" between Vietnamese comics and foreign ones.
The production cost of a domestically-made comic book typically ranges from VND 10 million (US$6,000) to VND 15 million (US$8,900), while the royalties to be paid for a Japanese-made comic book are only about US$3.
In addition, the number of pages in a Japanese comic book is three times or even four times more than that of a Vietnamese comic book. Thanh consequently knew quite well that she could not count on the support of any local publishing house when she attempted to bring her comics to the world.
Thanh spent sleepless nights trying to figure out what she would have to do. To keep costs to a minimum, Thanh undertook every aspect of the production, from writing scripts, designing characters, applying for publication licenses and hiring a printing house for the print job.
In an admirable effort to create comics in a way that they could be translated into an easy and simple form of English for young readers to absorb the language in a joyous and natural way, Thanh made up the scripts based on the daily life contexts of families of cute little animals which would be personified as kids.
Through the stories, simple messages about filial love, friendship and loving-kindness would be directly conveyed to kids. The comics were also intended to stimulate the young readers' imaginativeness and enhance their aestheticism through their terrific illustrations.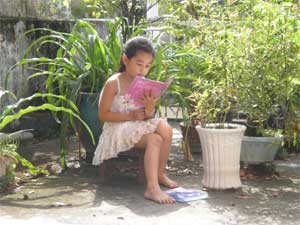 Third grader Tuyet Hanh reads a comic book about little cute kitten Tigon and his friends
"I know that Vietnamese school-age kids are crazy about Japanese comics, or manga, that eature worlds of adventure, magic, and supernatural and superhuman events," Thanh said. "These comics, not taking their violent content into account, may be good for kids' entertainment, but apparently not good for educational purposes as they lack for moral lessons."
Thanh is afraid that Vietnamese kids will gradually forget basic and important values of good traditions in Vietnamese families if they read such comics day after day as their content is, to some extent, not appropriate with the Vietnamese culture.
Unlike foreign comics that focus on entertaining purposes, Thanh's comic books are interesting stories that give prominence to moral values which will play a dominant role in shaping children's attitude and approaches to life.
Through the simplicity of language, Thanh makes the children understand easily the greatness of parents' love, children's filial love towards their grandparents and parents, brotherhood and sisterhood, friendship, solidarity and interdependence in accordance with Vietnamese tradition to help kids adapt them effectively in their daily life.
With an ambition to help Vietnamese kids to improve their English, especially spoken English, Thanh have had a native English teacher translate Vietnamese versions of her comics into English.
Thanh recalled, "At the outset, I hired a Vietnamese translator to do the translation to reduce the production cost,  but I finally had no choice but to destroy 5,000 copies of the first comic book as the language style used in the translated version was a kind of formal written English, not naturally spoken English used in daily life."
Tuyet Hanh, a third grader at Hong Ha Elementary School in Binh Thanh District, owns an entire series of comics about a cute little cat Tigon and his friends. Hanh asked her mother to buy them for her when she was in the bookstore with her last week.
"They stood out from other comics on the bookshelves," Hanh said. "They're so beautiful.  I love the funny world of the cute and kind-hearted little animals like kittens, rabbits and monkeys in the comics, through which I can learn the beauties of friendship and of the love between mothers and kids. They are like flowers. It's hard for me to describe in words."
Hanh added that by reading the comics, she could learn some English. Learning language by reading such colorful and beautiful comics was really fun.
Commenting about the two series of Thanh's comic books, Ms. Sheila Lehmkuhle, a kindergarten and English language teacher at an international school in Ho Chi Minh City said, "Whether in school libraries or on the children's bookshelf at home, I think children and parents alike will be attracted to these stories."
She added that foreigners learning Vietnamese or Vietnamese people learning English as a second language will also find in these books a most enjoyable way to practice reading out loud as they learn a new language.   
We hope that Thanh's comic books will find the place they deserve on children's bookshelves in their families.