Spring is a time of festivals in the northern provinces near Ha Noi and festival takers are seen with lifted spirits.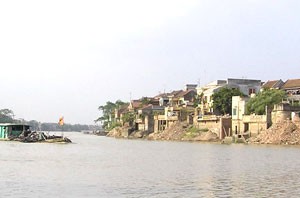 A section of the Cau River
A traveling way they may take is navigating in a small boat along the Cau River, whose older names are Nguyet Duc and Dao Hoa. The sky looks slower and like a huge grey spider web because of many layers of dark clouds of various shapes. The clouds run continually to the skyline and suddenly seemingly cut into faraway mounts covered with the sad colors of rocks. However, sometimes, the sky lets some sun beams through and they are reflected by the river to the trees on the banks of the river.
When looking up to the upper reaches of the river, tourists may ask some questions such as where the water comes from. A thing shared by passengers in the boat is they have enjoyed a Lunar Year season with their families, where their wives, husbands and children met together. They have conducted traditional activities for the Lunar New Year such as setting the Lunar New Year pole in front of their house, selecting peach flowers to place in the middle of the house, cleaning the ancestral altar, and making glutinous rice cakes for Tet.
The spring time often brings to ones a strong feeling of reunification, a desire for a sip of warm spirit with friends sitting by a fire, or mumbling poets.
At present, the boat is taking travelers downstream. They have lot of time to watch the landscapes, including various layers of mountains. The Cau River is the most important of the Thai Binh River system. It flows through Bac Kan Province near the Viet Nam-China border down to Thai Nguyen Province and further down to Bac Ninh Province near Ha Noi.
A section of the Cau River is called Nhu Nguyet. According to history books, Nhu Nguyet was the place General Ly Thuong Kiet spread out the document which was considered the first Declaration of Independence of Viet Nam while he and his troops were fighting against northern invaders in the 11th century.