At first glance, the three houses are just charming rural houses built in different styles to welcome tourists to the southern province of Ben Tre.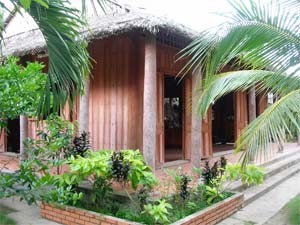 A house totally made of coconut palms and leaves at Quoi An Ecotourism Center 
It takes some time to sink in… that everything in and of the houses is made of coconut palms, its leaves, and its fruit.
The largest house is used for displaying many varieties of coconut; and tools like the long-handled sickle, coconut-scraper and coconut fiber stripper, etc. A guide offers detailed information on each item to visitors.
The roofs of the houses are made of the leaves of a coconut tree named Nypa fruticans, known as "dua nuoc" in Viet Nam, Attap palm in Singapore, Nipa palm in Philippines, and Nipah palm in Indonesia and Malaysia. The leaves are very durable and can be used for 3-5 years. It is called
All the partitions, doors, and windows of the houses are made from trunks of coconut trees; and the big columns with a very sophisticated finish are whole trunks.
"Within this house, maybe the hinges are the only things not made of coconut," jokes Tran Thi Thu, head of Quoi An Ecotourism Center that has built the houses.
In front of the largest house stands an octagonal 20sq.m showroom, also made of coconut, cyclos, vespa scooters, tea sets, night lamps and many coconut handicraft items are displayed elegantly.
The coconut art works are created by skilled artisans at a 100 square meter factory equipped with many advanced machines and equipment.
"A perfect product requires both high skills and patience of craftsmen. Sometimes a complex item takes us half a day to complete," says Tien, an artisan working there for three years. "Everybody here is focused on creating products of high value."
The third coconut house features another art form – embroidery. Visitors can buy embroidered towels, handkerchief, curtains, T-shirts and paintings. Prices of the common items range between VND20,000 and VND90,000, while some high-end embroideries can cost millions of dong.
The Quoi An Ecotourism Center is located in the commune of the same name in Chau Thanh district, and can be reached by road or a boat cruise on the Tien river.
A festival featuring all things coconut including processing technologies will be held in Ben Tre next January to commemorate the 49th anniversary of the Dong Khoi Uprising. 
Ben Tre is known as the "land of coconuts" with nearly 46,000 hectares of plantations. Hundreds of downstream coconut industries provide jobs for thousands of people in the province.
Coconut candy from Ben Tre is sold throughout the country and exported to China, Laos, Cambodia, Mongolia, Europe and America.