Western cuisine is not so strange to locals in HCMC, since there have been western and international restaurants flourishing here for over ten years. However, many times western dishes come with western prices. In order to make up - scale western dishes more accessible to the Vietnamese, Chef Ly Anh Tu has opened "48 Bistro".
Chef Tu's philosophy is to bring delicious western dishes at Vietnamese prices. It is important to him that the Vietnamese have an opportunity to tempt their palate with many different western flavors. He says that "48 Bistro" meets his demands.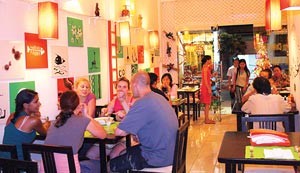 Foreigners are enjoying western dishes at 48 Bistro
Chef Tu also acknowledges that while he wants to keep his prices affordable, it is crucial to offer the best quality and most diverse foods. Therefore, he is always on the lookout for the best foodstuffs and spices, and is constantly rotating new items onto the menu. 
It looks like Chef Tu has been able to meet all of his demands, as the price is right and the entrees look divine at "48 Bistro". The menu item prices range from VND 10,000 to 48,000. Some of the menu items to try are the beefsteak with peppercorn sauce, roasted cinnamon chicken, pork filets in a red wine sauce, and the pan fried frog with garlic butter.
N.T.T - K.H
48 Bistro Program in December
10% lunch discount at 48 Le Thi Rieng Street in District 1
10% Grand Opening discount all day at 254 Tan Phuoc Street in District 10
Open from 6:00am to midnight daily
Tel: 8332 932 – Hotline: 090 8 637 803