Saigon Restaurant Cruise Ship, featuring hundreds of Vietnamese traditional dishes, has been a favorite rendezvous for local and foreign visitors for more than ten years.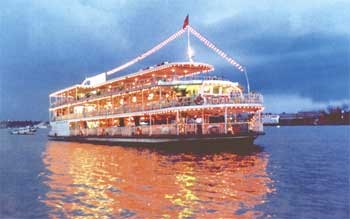 Saigon restaurant cruise ship
Berthed at Bach Dang Quay at the corner of Nguyen Hue and Ton Duc Thang Srreet, the triple-decker 600-seat floating restaurant 10m wide, 40.5m long, and 10m high, receives visitors at 7 p.m. and starts its journey along the Saigon River at 8:30 p.m. and return to the wharf at 9:30 p.m.
Passengers will have joyful time to enjoy dinner with delicious dishes and live music, circus show on board.
Passenger can get away from the hustle and bustle of downtown and discover the beauty of city and the rivers in the evening. Listen to the whistle of the wind and the lapping of the waves. Fishing boats sail across sluggishly.
Most tourists are very surprised at the peaceful space and clean air here, which is not far from Ho Chi Minh City. On the deck, you will see the city from afar. Outside the windows, there is fresh air and beautiful sections of the river.
The restaurant is noted for its raw seafood including steamed lobsters in coconut milk, seafood salad, on-the-stove seafood, on-the-stove raw fish, stewed fish, steamed crabs, fried shrimp sushi, fried duck with taro and others. A set menu including 6 dishes is available at US$15 for one person. Passengers can also pay at least VND20,000 (US$1.20) to choose a favorite dish.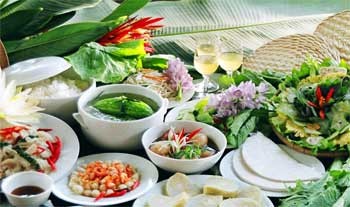 Vietnamese dishes
The first and second decks specialized in serving Vietnamese and Chinese food are places for birthday and wedding parties. Meanwhile the third deck introduces to the customers to dishes of the West.
The floating restaurant has launched a promotion "Enjoy buffet lunch on the Saigon River" on Sunday and public holidays from June 15 to August 15.
Special buffet lunch with more than 40 selected dishes, especially seafood hotpot will receives visitors at 10 a.m and starts its journey along the Saigon River at 11.10 a.m and come back the wharf at 2 p.m.
Visitors also enjoy live music with the Latin Eyes band, circus show and games for children. Ticket prices are VND 129,000/adult (US$8) and VND 89,000/child (US$5). Tickets for children are 20 percent off. There is free milk, coffee, orange juice and Lipton tea.