Traveling through HCMC is an experience not to be missed while in SE Asia. For the days you'll have plenty of tours and travel agencies to lead the way, but the nights are much less structured. If you are the type of person who comes alive after the sun sets, a little guidance can be of great help when navigating this bountiful city after dark.
Most backpackers and budgeters stays in the Pham Ngu Lao area of District 1. This is where the highest density of westerners can be found, and the area is catered to them. The streets of Bui Vien, De Tham, and Pham Ngu Lao are lined with travel agencies, souvenir shops, guesthouses, internet cafes, and western style bars and restaurants.
This is also one of the better night spots in HCMC. If you, like Eric Clapton, favor letting it all hang out after midnight, then stay in Pham Ngu Lao, as its one of the few areas that has bars open after the witching hour. For the best service in town, give Crazy Lam Cafe a try. For the best people watching, Go 2 or Allez Boo will keep your neck craning. For a typical pub, Le Pub will make you feel right at home. Or, if you'd like a sparsely populated dive bar with a decent pool table then there is always Ice Blue.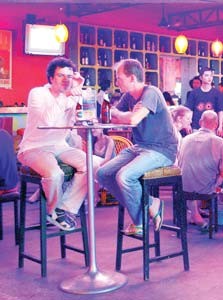 Nightlife in Pham Ngu Lao
If you are looking for a more upscale experience or you prefer a booming dance club over a gritty pool-bar, then you'll want to head downtown. This area accommodates the business class clientele. You will find upscale restaurants with Vietnamese and international gastronomy. After dining, try working off those calories at one of the hip downtown night spots.
If you want to shake a leg to house beats and popular dance tunes, Lush will accommodate you. If you want to take in HCMC's posh hipster scene, go by Q Bar for a shot of absinthe. If you'd rather like to share in the revelry, then go by Vasco's for a pitcher of sangria. However if your thirst still hasn't been quenched when they stop serving downtown, then head to Pham Ngu Lao to continue your night.
If you are a beer drinker whose tastes go beyond pilsners such as Heineken or the regional favorite Tiger, then head over to Mac Dinh Chi Street to discover one of the many restaurants serving bia tuoi, a domestic stout. This is a dark, rich beer, comparable to a Guinness extra-stout, although with a flavor of its own.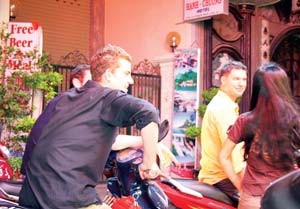 Tomfoolery in Pham Ngu Lao
There are also many bia hoi locations in HCMC, including a few in Pham Ngu Lao. Bia hoi is a fresh golden lager unadulterated with chemicals, and is extremely cheap, however, it also varies in quality. It only has a shelf life of 24 hours, so the good bia hoi's run out early.
So while you are staying in HCMC, either start out by spending a little extra in the SE Asian opulence of the downtown clubs, or spend next to nothing at a bia hoi stall, but if you want to keep the party going well into the night, you'll eventually have to make your way to Pham Ngu Lao.
By Daniel R. Spero
Vung Tau Helicopter tour
A local area travel agency called Fiditour Company has announced a new tour offer in Vung Tau. The tour is called "The Unforgettable Vung Tau" and is designed to be a romantic way to see all of the Vung Tau sights. The tour includes hotel accommodations, food and drinks, and a bus tour to see Vung Tau sights such as Large Mountain, Small Mountain.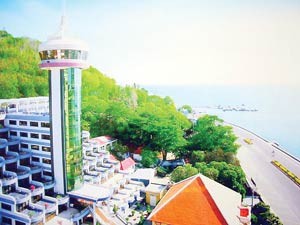 A view of Vung Tau by helicopter
The tour highlight is a 15 to 30 minute helicopter ride to see Vung Tau by air. With a cruising altitude of 250 meters, passengers will have the opportunity to observe some of the unique features of the beach and city. The Vung Tau tours will begin this week and last until Christmas-Eve, December 24. The tour cost is VND1,995,000 per person. Contact Fiditour for additional information.
T.KH