A 10-hectare bamboo village and ecological zone preserving hundreds of species of bamboo has just opened in Binh Duong Province and promises to both entertain and educate tourists.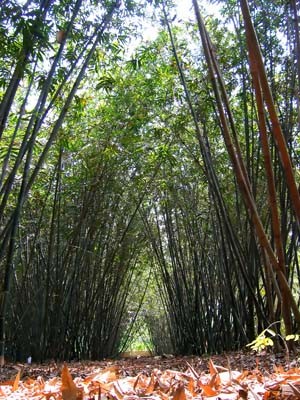 Bamboo trees neatly lined up on two sides warmly greet visitors
Upon entering the "Phu An Bamboo Museum and Conservation Village" in Ben Cat District's Phu An commune next to Ho Chi Minh City, visitors will sense an atmosphere of serenity. Hidden amid tall, green bamboo trunks growing straight and true are small hills dotted with flowers of various colors. Birds chirp in the sky, boulders and beehive-shaped rocks lie scattered under the shadowy canopies, and in this setting, tourists can have a rest to savor the rustic, tranquil feeling.
As the biggest of its sort in Southeast Asia, the village-come-conservation zone boasts over 1,500 bamboo clumps of 17 genera of the world's roughly 100 existent genera, with 300 different species including rare, precious ones like square bamboo, golden bamboo and cylinder bamboo, all with name plates giving their scientific names, local names, and dates of collection.
What's special is that bamboos endemic to Viet Nam are grouped together into their respective "Mekong River Delta," "Central Highlands," "Southeastern Region" and "Northern Region" categories.
In the "Mekong River Delta" category, a platform made of beehive rocks offers tourists a resting place in the evening to enjoy the moon and stars or simply listen to frogs and toads' songs, creating a perfectly idyllic scene. In addition, narrow bamboo bridges and boats capturing the image of a rural southern Viet Nam are ready to transport passengers into the heart of the area, dubbed the "Bamboo Labyrinth."
Before entering this labyrinth, tourists will first be able to muse over a giant, natural "map" of Viet Nam made up of vegetation and a plant called arachis pintoi. Each Vietnamese region on the "map" is made of hills and of trees endemic to that region. The "Mekong River Delta" section is a green-yellow plant cover segmented by small tunnels representing the nine tributaries of the Mekong River flowing out into the sea.
Once inside, stranger and stranger bamboo appears. For a break, visitors can contemplate the Rach Chua River as it majestically winds its way along, after being guided along "eco-roads" or "village roads" marked by fresh breezes absolutely untainted by city pollution and smog.
The area also preserves other plants in danger of extinction and has so far this year received around 50 international delegations though it was only opened on April 7 within the framework of the ongoing French cultural week in Viet Nam.
The village also displays numerous bamboo-made products and boasts a bamboo museum replete with bamboo musical instruments in addition to a relaxation area and an outdoor theater.
A Scientist's Passion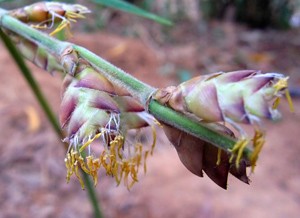 Bamboo trees rarely blossom but they do in the Bamboo Village
The brainchild of the village is a local woman from Phu An Commune, PhD Diep Thi My Hanh, currently a biology lecturer at the Ho Chi Minh City University of Natural Sciences.
Born in a poor land where bamboo is prevalent and sold cheaply, Doctor Hanh has been nurturing the idea of collecting bamboo for scientific research since her childhood.
In 1999, she knocked on doors at major agencies seeking sponsors for her conservation project – the French consulate replied, but said it only sponsored big projects. To qualify her own project as "big," Hanh worked day and night to upgrade her plans for a botanical garden into the ecological zone and bamboo village that we see now.
In 2003, the Rhone Alpes finally agreed to finance €600,000.
Dr. Hanh said categorizing bamboo is the most daunting task. With the help of Dr. Soejatmi Dransfield of the famous Royal Botanical Gardens of Kew in London and Vietnamese Professor Le Cong Kiet, her team has so far identified 60 species by carefully studying the bamboo trunks, leaves, and shoots through a software program written by French professor Regine Vignes Lebbe.
The 10 hectare expanse is irrigated via a system of ingeniously devised pipeways designed also by French engineers.
Hanh is now researching ways to fertilize the soil with the lantana camara plant and bamboo by trying to use them to absorb lead and heavy metal. She is also studying how to apply bamboo and green technology into everyday life, to make biocomposites and use their cellulose to produce waterproof, environmentally friendly materials to replace nylon.
"Bamboo is a tree of the poor people and an eco-tree. Many products can be made from bamboo. It is flexible and always grows straight, representing the strong, straightforward-but-resilient character of the Vietnamese people," explained Doctor Hanh.